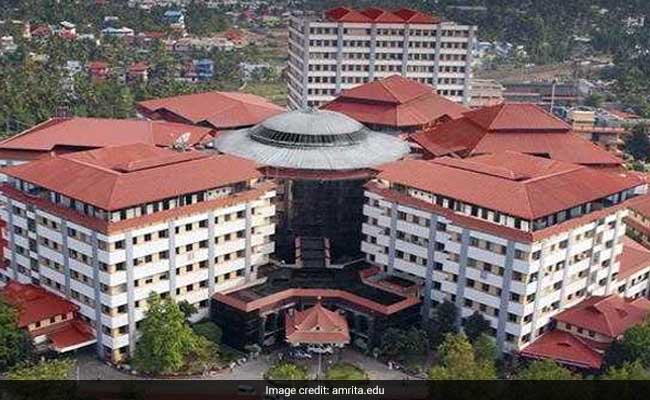 Kochi:
The Government needs to formulate a national policy on the integration of Ayurveda with allopathy so that India can take its rightful place as the global leader in integrative medicine, said experts assembled at conference on integrative Ayurveda and modern medicine at Kochi's Amrita Institute of Medical Sciences. The two-day event called Amrita Samyogam, in which more than 60 experts and 1,000 delegates from around the world participated, was held in collaboration with Amrita University's School of Ayurveda.
The conference was inaugurated by Dr. Rajesh Kotecha, Special Secretary, Ministry of AYUSH.
The Conference brought together allopathic doctors, Ayurveda practitioners and modern scientists on a common platform to identify strategies for integrating Ayurveda with Allopathy in the management of cancer, auto-immune diseases like arthritis, diabetes, neuro-degenerative diseases, and mental health, said a statement from the institute yesterday.
"In integrative health, all streams of health sciences come together in a synergistic manner to positively impact health outcomes. The Government is very serious about promoting a model where experts in different domains contribute to the health science, and migration of knowledge occurs between each stream," Mr. Kotecha said.
He also said that the government is setting up a nationwide AYUSH grid connecting all hospitals and research labs to record case histories and observations so that a huge amount of evidences can be generated through data analytics about the efficacy of Ayurveda.
"We have a pluralistic healthcare system which is officially promoted, but the irony is that there is no national policy for integrative medicine in the country. The thrust for such integration is currently coming from the patients, who are left to decide for themselves which system of medicine is best suited for them," said Dr. P Ram Manohar, Research Director, Amrita Centre for Advanced Research in
Ayurveda.
"We need to develop integrated clinical trials and integrated practice guidelines for practitioners across different healthcare systems," Mr Manohar added.
"Allopathic medicine has distinguished itself with molecular level diagnostics and therapy. However, in many chronic conditions like diabetes, arthritis and neurodegenerative and cardiovascular diseases, allopathic care does not promise cure. While disease management is possible with allopathic drugs, they have side-effects due to the use of synthetic elements," said Prof. Shantikumar Nair, Director, Centre for Nanosciences & Molecular Medicine, Amrita University.
In Ayurveda, Prof. Nair added that the treatment is through natural herbal medications which can have significant potency and potential for substantial improvement in several disease conditions as well as less deleterious side effects.
"The main drawback of Ayurveda is the lack of scientific validation and data documentation as per evidence-based criteria, which prevents its better acceptance and recognition," he said.
Click here for more
Education News