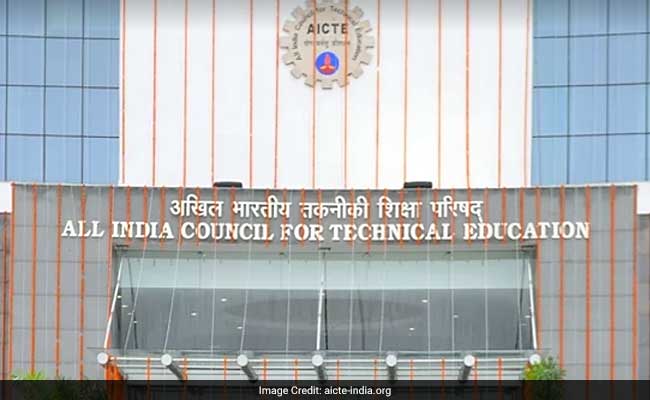 New Delhi:
The All India Council for Technical Education (AICTE) is planning to reduce intake of seats by almost 1.3 lakhs in B.Tech and M.Tech courses, from the new academic year. At least 83 educational institutions in the country, having around 24,000 seats have applied for permanent closure, news agency ANI quoted from recent media reports. The news agency also reported that over 450 colleges have sought permission from the AICTE to discontinue some undergraduate and postgraduate engineering courses.
For the current academic session, a total of 10399 institutes offer 3552713 seats in the nation, including 323 new institutes. 40% of the total seats are available in undergraduate engineering and technology programs, the most sought after study option after 10+2.
Huge Dip In Technical Seats This Year: Highlights
83 colleges have applied for permanent closure
494 institutes (as reported by the Indian Express) have requested to discontinue some programmes at undergraduate and postgraduate level
On the basis of the numbers, 1.3 lakh M.Tech/ M.E. and B.E./ B.Tech. seats are expected to be less this year
Out of the total number of requests made for total and partial closure, 80% applications are likely to be approved.
In February 2018, IANS reported that
AICTE served notices to 800 technical institutions
last year, which, according to an official, were not able to fill 30 per cent of their total seats in last five years. In fact, the move to shut down these 800 colleges had begun in 2017. The decision was taken on the account of low admission to such colleges over the past five years. The colleges were asked to submit a report by the second week of September 2017. Colleges with less than 30% admission in past five years were given the option to either shut down or get merged with a nearby college.
There were 37 lakh seats available last year across all 10,063 AICTE-approved institutions offering technical courses in management, architecture, engineering, hotel management and pharmacy, among others. The quantum of seats filled across institutes was pegged to be around 45-50 per cent of the total.
The stake holders have mixed responses to the development.
A student of Harcourt Butler Technical University in Uttar Pradesh's Kanpur welcomed the AICTE's move and told ANI, "Many students are doing preparations for engineering. Parents also are worried about their child's performance. However, as per industry standards, they don't know proper engineering and hence, they don't acquire the practical knowledge needed today. It's good that the government is pushing for fewer seats so that children are admitted in good institutes and get a good and quality education."
'One of the major reasons behind this is that AICTE couldn't provide job opportunities in the ratio in which they increased the number of seats. Such a situation only exists in private colleges. Government colleges have followed uniform standards in imparting quality education and practical knowledge in engineering, but for private colleges, it has been changing over the years,' said a Professor of the Harcourt Butler Technical University to ANI.
Click here for more
Education News