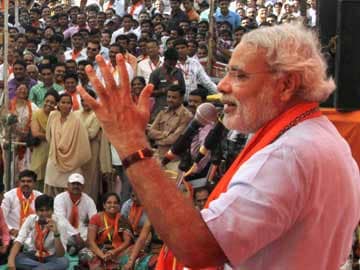 Alwar, Rajasthan:
Narendra Modi
today compared his ability as a crowd-puller to that of
Rahul Gandhi
, whose last appearance in Delhi drew skimpy public response and saw Chief Minister Sheila Dikshit urging attendees not to leave without hearing Mr Gandhi speak.
"There are rallies where people are told 'stop, don't go; stop, don't go'. And there are rallies where I have to apologise to people because they could not see me," said Mr Modi today, at an election rally in Rajasthan.
('At least stay for Rahul Gandhi's speech': Sheila Dikshit pleaded at Delhi rally)
Mr Modi is the BJP's prime ministerial candidate. Mr Gandhi is leading the Congress party's campaign for five state elections. Their results will be used by political parties as a mosaic of the possible outcome of the national elections, due by May.
After the ignominy of Sunday's rally for Mr Gandhi, the Congress said that the poor turnout was not a reflection of his star power. The party blamed factors like strict police checks and a shortage of water at the venue for the penurious crowd.
On the same day, Mr Modi addressed nearly three lakh people at a rally in Bangalore.