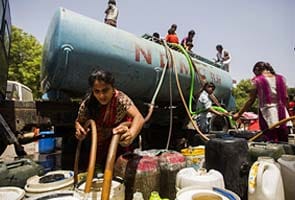 New Delhi:
Uttar Pradesh has fixed the breach in upper Ganga canal and restored water supply to Delhi, which will ease water shortage in various areas of East and South Delhi.
"470 cusecs of water supply per day to Sonia Vihar and Bhagirathi treatment plants in Delhi has been restored from yesterday, as the repairing of the breach has been completed," superintendent engineer in irrigation department, V Singh Bhadoria said.
Water supply in western UP farming districts like Meerut, Muzaffarnagar, Ghaziabad, Bulandshar, Aligarh and Mathura has also been restored, Bhadoria said.
Various areas in East and South Delhi were facing severe water shortage after Uttar Pradesh cut raw water supply to the two plants in Delhi from the upper Ganga canal to fix the breach at Khatoli on May 17. 18 districts in UP were also hit.
The upper Ganga canal supplies around 450 cusecs of water to Delhi out of which 200 cusecs is supplied to the Bhagirathi plant and 250 cusecs goes to Sonia Vihar plant.
Water treated by Sonia Vihar plant and Bhagirathi plant is supplied to East and South Delhi localities.