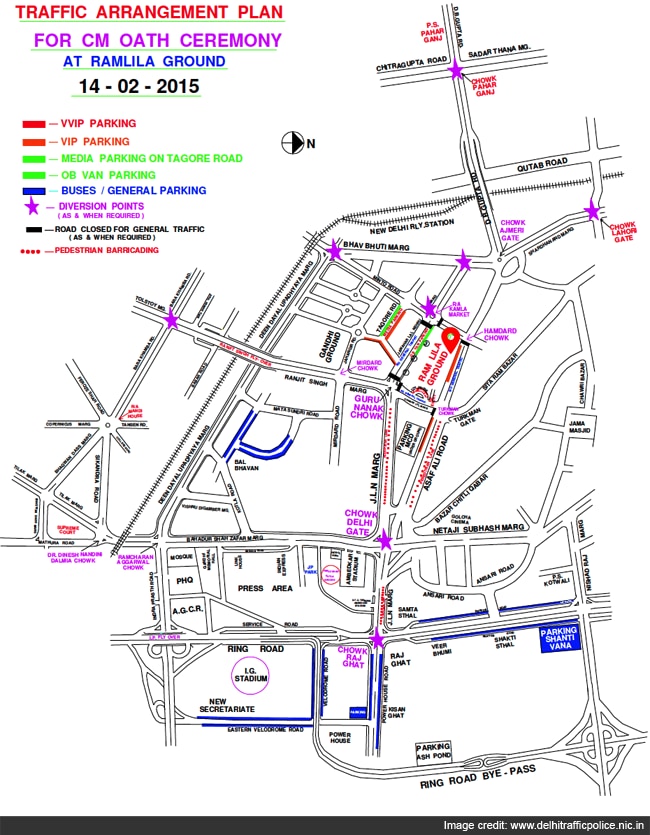 New Delhi:
Anticipating a large crowd for the swearing-in ceremony of Aam Aadmi Party leaders, Delhi Traffic Police on Friday advised commuters to avoid routes leading to Ramlila Maidan where AAP chief Arvind Kejriwal will take oath as the eighth Chief Minister of Delhi.

According to a traffic advisory issued on Friday, heavy traffic is expected in the areas of New Delhi and Central Delhi. Roads in Central Delhi would be affected between 10 AM to 2 PM (depending upon the conclusion of the ceremony). The swearing-in ceremony will be held at 12:00 noon.

"There would be restriction or stopping/diversions of the vehicles as per the functional requirements and ground situation. Public is requested to use metro services while motorists are advised to follow the directions of the traffic policemen deployed on duty to avoid inconvenience," said Joint Commissioner of Police (Traffic) Anil Shukla.

The roads which would be affected include JLN Marg, Rajghat, Delhi Gate, Asaf Ali Marg, Netaji Subash Marg, Bahadur Shah Zafar Marg, DDU Marg, Connaught Place, Mandi House Tilak Marg, Mathura Road, Vikas Marg, Ranjit Singh Road, Bara Khamba Road, Parliament Street, Sikandra Road and Ashoka Road, Ring Road from Kale Khan to ISBT etc.

"A number of important dignitaries, general public, and the media are scheduled to attend the ceremony. In this regard, elaborate security and traffic arrangements have been planned to ensure traffic circulation, pedestrians' movement, safety of visitors as well as that all the dignitaries and invitees reach the venue in time and the function is held smoothly," said Mr Shukla.

According to police, people visiting New Delhi Railway Station from East and North Delhi should take IP Marg, DDU Marg to reach Ajmeri Gate or Paharganj side of New Delhi Railway Station while those going to LNJP hospital will be facilitated to reach the hospital through the normal route.


Traffic Police has been briefed to be helpful to patients and their relatives, said Mr Shukla.
Parking for officials will be present at Chaman Lal Marg, Asaf Ali Road while general parking shall be at Tagore Road behind Civic Center and Mata Sundri Road. General parking for buses would be at Power House Road, Veldrome Road, Rajghat parking, Shanti Van Parking, Service roads Rajghat and Samtha Sthal as per requirements.
Only limited number of buses would be parked on Mata Sundri Road.
All other buses carrying persons for the ceremony would be diverted to Rajght and Veldrome Parking, police said.