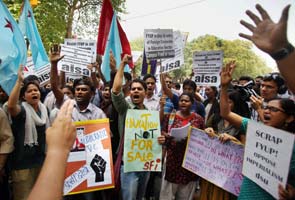 New Delhi:
Several teachers, students and activists today staged a protest near the residence of UPA chairperson Sonia Gandhi against Delhi University's new four- year undergraduate programme to be introduced from this year.
Around 150 members of various teacher and student organisations protested at 12 Janpath as police barricaded the route to Gandhi's residence at 10 Janpath where they had earlier decided to stage the protest.
The protesters, comprising of members from AISF, AISA, SFI, Campus Front of India and DUTA, demanded the resignation of DU Vice Chancellor Dinesh Singh, saying the shift to the four-year pattern was "hurriedly implemented".
They also alleged that the four-year programme was against the interest of students coming from weaker section, especially those belonging to SC, ST and OBC.
The protest near Gandhi's residence comes after several delegations of teachers and students have raised the issue with Prime Minister Manmohan Singh and HRD minister Pallam Raju.
"We have met HRD minister Pallam Raju and Prime Minister Manmohan Singh but did not get any favourable response from them. Now we are at the doorsteps of Sonia Gandhi," said Udit Raj, chairman, All India Confederation of SC/ST Organisations.
Raj said, "if Gandhi too does not take any step to scrap the four-year programme then we will stage an even bigger protest which can also turn violent."
The Dalit activist said students coming from weaker sections, especially those belonging to SC, ST and OBC would, face difficulties pursuing the new programme as they would not be able to meet the expenditure of an additional year.
"The four-year course will only mean that the students from the socially and economically backward classes will get marginalised. They are trying to make education elitist. Only the elite will be able to do this four-year course," he said.
"Dinesh Singh is behaving like an autocrat and has entered into the domain of HRD ministry. There are 600 universities in India and if every university came up with their own educational policy then what will be the result," Raj alleged.
Teachers from the university added that the stress on English and Mathematics in the foundation course will discourage students.
They also claimed that the new structure is being adopted on the lines of American higher education system to make way for foreign universities in India.
Although the protesting teachers and students were not allowed to stage their demonstration on 10 Janpath, a delegation of five members submitted a memorandum at the reception of Gandhi's residence.
The new four-year undergraduate programme, to be introduced from this year's academic session, has been in controversy ever since a section of teachers and students objected to its "hurried implantation".
Left leaders, including Sitaram Yechury, have taken the issue to the doorsteps of the Prime Minister.