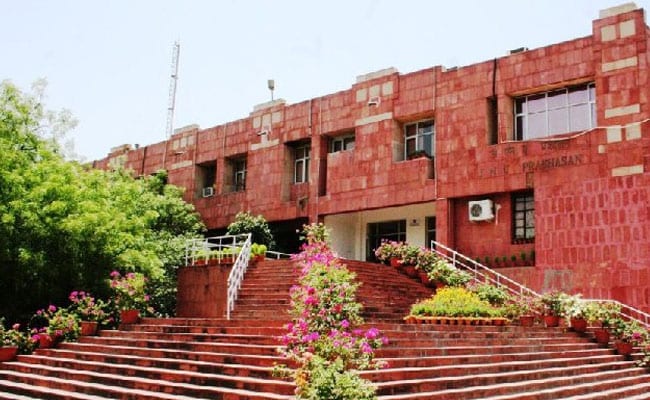 New Delhi:
With rap, protest music, blogs and art work on campus, Jawaharlal Nehru University students are taking on the vice chancellor in novel ways.
"My beloved VC...Just tell me one good thing you did since you landed foot on campus" are the angry words from a JNU student's rap song, penned in protest against Vice Chancellor M Jagadesh Kumar's recent move implementing a seat cut.
Ever since the administration released its notification on the over 80 per cent seat cuts in M Phil and PhD admissions for 2017-18, students and teachers have turned to various forms of protest to espouse their cause.
"I wrote the song after my hopes on the outcome of the 143rd Academic Council meeting were broken," said Rahul Rajkhowa, whose 2 minute, 55 second song has gone viral on social media.
The MA student, who is the guitarist and vocalist of a Delhi-based band, Paperboat, said he wanted to take the issue to a broader platform through rap.
Rajkhowa's lyrics not only focus on the seat cuts, but also deal with the anger over the "disappearance" of JNU student Najeeb Ahmed from his hostel after a clash with ABVP members and the labelling of JNU students as "anti-nationals".
"Sir, you know, that just makes you a paranoid fascist leader. People will rise up against you, is that your fear?" he asks the VC in his song.
Rajamathangi S, a Tamil dalit PhD Scholar at the Centre for Linguistics in JNU, last month resorted to writing blogs to express her anguish on the seat cuts.
"If a seat cut was implemented in my time, what would I have done with my MA degree in linguistics? Since I am a woman, society would have pressured my parents about my marriage and my dream to be the first PhD in my family would have been buried," she writes.
JNUSU general secretary Satarupa Chakaravorty said just like various movements on the campus, including the 'Stand With JNU' campaign, seat cuts too had prompted students to come up with songs to be sung during protest marches.
"Songs are the depiction of various movements and student struggles across the world. Seat cuts too had attracted several revolutionary songs from the 1980s," Mr Chakaravorty said.
Students have also put up their art works on the campus to express dismay at the VC's move. Many have been releasing balloons in the air as a mark of protest.
Even though entrance examinations for some MPhil and PhD courses are beginning next week, students of JNU say that they will resort to more novel ways of protest to raise the issue.
"We will make sure such undemocratic decisions are not taken in future, we will take up many such methods of protests," said Rajkhowa who, like many others, aspires to gain an entry into the MPhil programme in international relations which has just two seat announced.
(Except for the headline, this story has not been edited by NDTV staff and is published from a syndicated feed.)