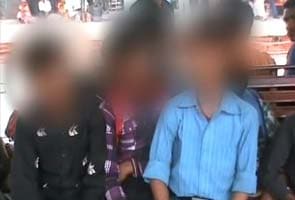 New Delhi:
After NDTV reported on Wednesday, how in the last one year, 14,000 adults and children have disappeared from West Bengal, most of them believed to have been swallowed up by the huge trafficking trade that is accustomed to treating West Bengal as its catchment area major raids are being carried out across Delhi.
In New Delhi the police have rescued 15 child labourers from the Old Delhi railway station. The children were en route to Ludhiana when the police reached them. Most of these children had been brought to Delhi from Jharkhand and West Bengal.
Late Wednesday night, six child labourers were also rescued from Malviya Nagar in South Delhi. Four children were going to be sent to placement agencies and two had been hired as domestic helps.
The six girls hailing from South 24 Parganas in West Bengal were rescued after the Child Welfare Committee issued written instructions to the crime Branch and the child rights NGO Shakti Vahini to conduct raids, rescue, rehabilitate and ensure that victims are sent home at the earliest.
The police say, as per their information not only were these girls minors, they weren't even being paid. One child was allegedly beaten up by her employee. The police will now issue arrest warrants against all the employers.
In Bengal alone, more than 8000 girls have disappeared; another 5500 males have also been reported missing by their families. NDTV had travelled to villages where several households had children sold off to brothels or working in faraway cities working as domestic help.