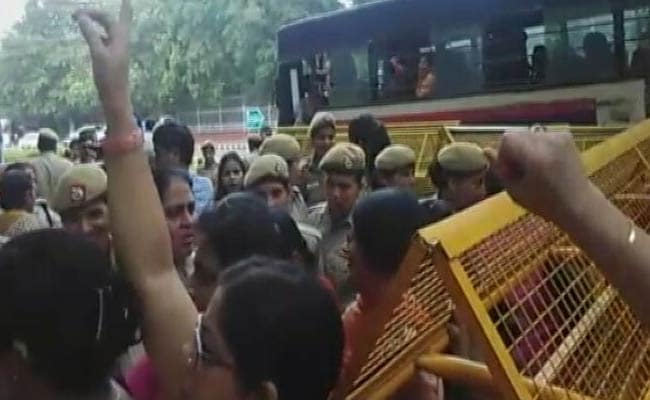 New Delhi:
A group of nurses protesting in Delhi were allegedly manhandled by the police before being dragged into buses and detained on Friday.
The nurses were shouting slogans at a popular protest site in the heart of Delhi when the policemen allegedly pushed them and bundled them into buses. Journalists alleged that they were also jostled in the commotion.
Nurses and radiologists in government hospitals across the country have called a strike over salaries at a time many cities are confronting rising cases of dengue and chikungunya.
The nurses have claimed they will not abandon emergency cases.
"We are not happy with the response of the government and so we will go ahead with our proposed strike. But, we will attend to emergency and critical cases," Liladhar Ramchandani, the spokesperson of All India Government Nurses Federation, said today.
Around 20,000 nurses work in government hospitals in Delhi.
"We tried to convince them but they are adamant about their demands. The ministry has assured them but they are not yielding. Also, so many people are suffering from dengue and chikungunya in this season, and we also asked them to defer the strike but in vain," said Ram Manohar Lohia Hospital's Medical Superintendent AK Gadpayle.
Eight people have died of dengue and over 480 cases have been reported in Delhi this season. More than 400 chikungunya cases have also been reported.
An estimated 1.8 million government workers in sectors like banking and telecom are also on strike today to protest against new labour and investment policies.