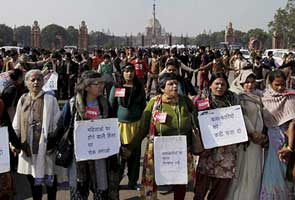 New Delhi:
There were dramatic scenes of Raisina Hill today as hundreds of women tried to enter Rashtrapati Bhavan to express their outrage over Sunday night's gang-rape of a young woman on a bus. Shouting "we want justice", the protesters tried to force their way in before they were stopped by the police.
The woman who was raped and badly beaten with an iron rod on Sunday night is in critical condition in hospital. Five of the six men accused in the case have been arrested.
(Read)
Today, protesters from various women's organisations started their march from Rajpath and went past the barricades erected at the entrance of Raisina Hill and moved towards Rashtrapati Bhavan and South and North Blocks. Carrying placards and shouting slogans, the protesters demanded stringent punishment for rapists. The protesters also briefly surrounded West Bengal Governor MK Narayanan's vehicle. (
See pics
)
Yesterday, letter was written by a group of children to President Pranab Mukherjee demanding stringent action against the rape accused. (
Read: 'Punish these bad men', children write to President Pranab Mukherjee
)
Two days ago in a similar protest, around 200 people had gathered near North Block. They dispersed only after Home Minister Sushil Kumar Shinde agreed to meet a delegation of students from the JawaharLal Nehru University
The scale of the assault has horrified the national capital where women are used to fending for themselves with minimal assistance from the police. Delhi has seen wave of protests by university students, civil society groups and women's organisations.
On Wednesday, students and women protested near the house of the chief minister, Sheila Dikshit; the police used water cannons to check them from approaching her residence.
The Delhi government has announced a slew of measures including setting up of a round-the-clock control room for women in distress and proposing a stringent law to check crime against them.
Briefing about the measures, Chief Minister Sheila Dikshit said the government plans to bring a stringent law to curb sexual assault on women and requested Additional Solicitor General Indira Jaisingh to prepare a draft bill.
Mrs Dikshit, who has also come under attack following the ghastly assault on the girl said, "I think it will go a long way in containing crime against women. We will consult all stakeholders before finalising the draft law," she said.
(With PTI inputs)