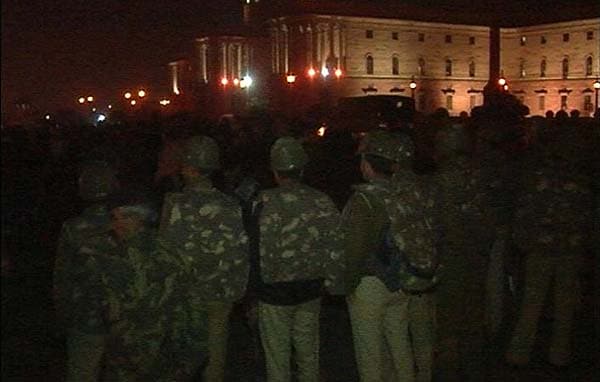 New Delhi:
Hundreds of people gathered at India Gate in Delhi this evening to sharetheir outrage over Sunday night's gang-rape of a young woman on a bus.

A group of 200 students tried to march onto Raisina Hill, where severalministries, the Prime Minister's office and Rashtrapati Bhawan are located. Thepolice cordoned off the area. Representatives of the students were then invitedto meet Home Minister Sushil Kumar Shinde at his home. The students gave Mr Shinde a 10-point demand.

Through the day, there were rallies across the capital and in other cities,with people demanding a swift trial of the six men accused in the case, and newlaws with heftier punishment for those convicted of rape. "We wantfast-track trials," said a young male student.
"I am herewith my young daughter. She asks me 'What is rape? How do I stop it?' What do Itell her?" a man in a blazer asked, his eight-year-old in his arms.

The woman who was raped on Sunday night is in critical condition in hospital. (Read)Her friend, who boarded a bus with her after watching a movie, was hit on thehead when he tried to protect her. She was then attacked with the same rod whenshe tried to protect him. Both were then thrown from a bus, semi-naked.

The scale of the assault has horrified Delhi where women are used to fendingfor themselves with minimal assistance from the police. Earlier today, studentsand women protested near the house of the chief minister, Sheila Dikshit; thepolice used water cannons to check them from approaching her residence. (Read)

Another demonstration outside Delhi Police Headquarters ended peacefully aftera group of women met Police Commissioner Neeraj Kumar.

Speaking later, Rajya Sabha member Jaya Bachchan told the media: "We havebeen assured that this case will be dealt with in a very, very severemanner."

About 150 women and college students who gathered outside police headquartersfor nearly three hours demanded more police presence on roads and fast-trackcourts to prosecute rapists.