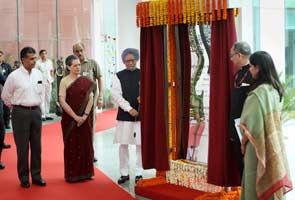 New Delhi:
A swanky national media centre, built at a cost of Rs 60 crore on Raisina road in the heart of Delhi, was inaugurated today with Prime Minister Manmohan Singh and UPA chairperson Sonia Gandhi expressing hope that it will become an information bridge between government, media and people.
"The inauguration of the National Media Centre is not only about unveiling New Delhi's latest landmark. This centre also showcases our ability to keep pace with similar state-of- the-art facilities across the world. It symbolises the vibrant mood of the existing media landscape in our country," Dr Singh said at the inauguration.
He hoped the centre will fulfil the requirements of media persons as a communication hub and as a single window facility.
"The National Media Centre is just the latest step in addressing the diverse communication needs of our country in the future," Dr Singh said.
Speaking on the occasion, Sonia Gandhi said that in any society undergoing dramatic and rapid transformation there is need to renew and rebuild and the national media centre represents that evolution.
"I hope very much that it will become an effective nerve centre and an information bridge between the government, the media and the people," she said.
This facility must meet the challenges posed by these new emerging channels and technologies because if not today then tomorrow they are certainly going to have a larger role in our society, the Congress chief said.
The new media centre is spread over 1.95 acres and is in proximity to Rashtrapati Bhawan and Parliament House. The centre will have offices of the Press Information Bureau (PIB) as well as facilities for media.
It has a press conference hall for 283 media persons, a briefing room for about 60 persons, 24 work stations for journalists, a library, media lounge and cafeteria.
The press conference hall and media lounge in the centre are wi-fi enabled.
The Centre has been constructed by the National Buildings Construction Corporation (NBCC) at a cost of Rs 60 crore over a period of three years.
Among the facilities provided at the centre are optic fibre Internet backbone with redundancy, mini data centre for application development and hosting webcast, including live webcast, Video feed to TV channels, IT facilities to media persons in work area and lounge, Internet telephony and AV Video Wall.
The Centre was initially conceptualised by the PIB in 1989 to facilitate greater interaction between the government and the media.