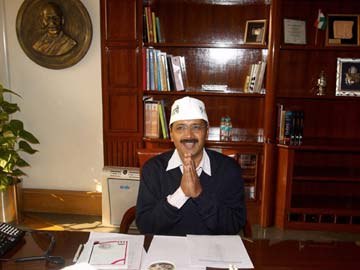 New Delhi:
Nine senior bureaucrats, including the CEO of the Delhi Jal Board, have been transferred by
Arvind Kejriwal
, who took charge of the Delhi government today. (
Track live updates
)
On his first day in office as Delhi's new chief minister, Mr Kejriwal worked for six straight hours. At around 1:30 pm, the 45-year-old drove in his blue Wagon-R to the Delhi Secretariat in central Delhi, less than two hours after taking oath at the Ramlila Maidan, a ceremony which was attended by over a lakh people. He left office at 7:30 pm. Tomorrow, Mr Kejriwal will work from home where he has reportedly fixed several key meetings. (
Pics: From metro to cabinet, this was Arvind Kejriwal's day
)
Despite Saturday being a holiday, officials and staff were present at the Delhi Secretariat today to attend to the new chief minister. With Mr Kejriwal taking charge, sources say that the Delhi Secretariat may now work six-days-a-week. (
Read: No lal battis or police escorts, decides Kejriwal's cabinet
)
In his six hours at work, Mr Kejriwal today met the heads of the Delhi Jal Board, Indraprastha Gas Limited, Delhi's Police Commissioner BS Bassi, and called two cabinet meetings with his team.
One of Mr Kejriwal's senior ministers, Manish Sisodia, who is the Minister for Education, met the Director of Education, and called for scrapping of the management quota in admissions. He also said he will keep a close watch on the donation system and the nursery admission process will be a top priority. (
Pics: Meet Kejriwal's ministers
)
Law Minister Somnath Bharti has asked officials to prepare an agenda chart to chalk out the priorities of the department. Mr Bharti, a lawyer, has also asked the officials to come up with the number of posts that are vacant in the judiciary. He said that security of women will be the law ministry's top priority and cases relating to violence against women should be wrapped up within six months. (
Watch
)
Rakhi Birla, one of the youngest to take oath at 26, said today she quit her job as a journalist and joined the Aam Aadmi Party because of the Delhi gang-rape. Ms Birla is in-charge of the women and child welfare department. She told NDTV that she has brought retired armymen on board to seek advice on improving the security of women in the national capital. (
Watch
)
Health Minister Satyendra Jain spent his evening by paying a surprise visit to the government-run Lok Nayak Jai Prakash Narayan Hospital in central Delhi.
Saurabh Bhardwaj, minister of food and supply, and transport, said he found the work culture at the Delhi Secretariat 'disturbing." The 33-year-old also said he felt strange when senior bureaucrats addressed him as 'Sir' today. (
Watch
)