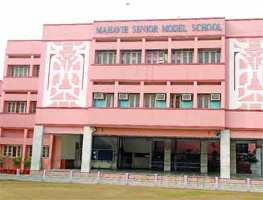 New Delhi:
What you eat can determine the fate of your child. We aren't talking about genetics here; this concerns the issue of the ongoing nursery admissions process in the Capital.
With schools getting a free-hand from the government, virtually, to decide criteria for selection of students, guardians are having to deal with some bizarre problems. For instance, as a parent you can lose valuable points at the Mahavir Model School in north Delhi if you are a non-vegetarian, smoker or even a moderate drinker.
All branches of the school have made it a criterion for parents to be austerely vegetarian and also keep away from cigarettes and alcohol.
According to the school's point system, there is a clear distribution of 100 points into various categories. 20-25 points are allocated to people from the Jain community, another 25 for those living in the neighbourhood, followed by 10 each to a girl child and those from the alumni. The rest is for people who follow a vegetarian staple diet, don't consume tobacco in any form and do not touch alcohol.
"It is a Jain minority school. We run the institution on a particular philosophy and vegetarianism is a basic tenet of Jainism. We respect all religions and all religious tenets are similar, except for the one of vegetarianism in Jainism. It is a fair criterion," said SL Jain, Principal, Mahavir Model School.
When asked how parents being vegetarian would make a difference to the child's education, he said: "Education is an all-encompassing pursuit. We want to promote this basic tenet of vegetarianism, which is now being preached worldwide. Countries in the West have been stressing on taking the route of a complete vegetarian diet."
While the school may have its own views, many parents are aggrieved. "We can lie about being vegetarians at any time. How will the school run a check on that? This was not expected of a reasonably progressive institution," said Jatin Verma, a government engineer and father of a three-year-old.
"I don't understand what parents' being vegetarian, beer-wine drinkers or hookah smokers has got to do with their child's admission to a school, even if it is essentially a minority school. This is just baseless and totally unacceptable," said an anxious Sachin Satija, who runs an independent business and had come to collect the form at the school for her four-year-old daughter.
The school has devised this unusual criterion and maintains that it is to inculcate the same tenets of Jain philosophy which have been laid in the texts and have always been fundamental to an individual's growth as a better human being.
"I was just speechless when I read the form's requirements. This is not a democratic way of functioning for an educational institution. We have taken a couple of forms of different schools for our son. But as Mahavir School is nearest to my place, I feel uneasy reading these absurd requisites for admission," said Dinesh Mishra, parent of a four-year-old.