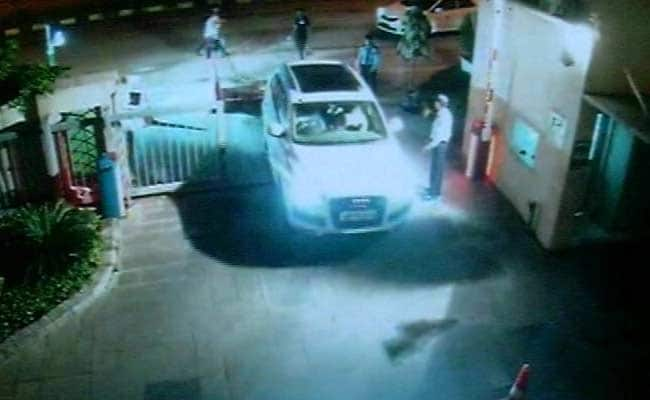 Highlights
Man seen walking up to counter, picks up keys and drives off with Audi
Told car safe, kept waiting for two hours: Car owner's family
Police looking at CCTV footage to catch thief
New Delhi:
At around 10 pm on Saturday evening, security cameras of a four-star hotel on the outskirts of Delhi filmed a man walking up to the valet parking counter. Minutes later he drove away with a white Audi Q7. Only, the car wasn't his.
The Audi, belonging to a businessman Arjun Garg, was stolen from the parking of Holiday Inn hotel in Aerocity, a commercial hub near Delhi's Indira Gandhi International Airport.
According to Mr Garg's family, they had gone to the hotel at around 8:30 pm for a family dinner. When they left at 10:15 pm and asked the valet to get the car, the key was not found.
Hotel officials however assured them the car was still parked, Mr Garg's wife Supriya said.
It was only after two hours that they were informed their car had been stolen from the parking, they say.
Police are studying the security camera footage which has captured the theft. Speaking on the phone, a man is seen casually entering the hotel lobby at 9:45 pm. Fifteen minutes later, he is seen exiting the building, walking up to the counter where the keys are kept. He then picked up the keys of the Audi and briskly drove away with it.
"Though our FIR does not hold the hotel managers as accused, we are very angry with them. If they had alerted us on time, we could have called the cops within 20 minutes of the car leaving the hotel premises," said Mrs Garg.
Ranjan Malakar, General Manager of Holiday Inn, said, "Our priority now is to cooperate with authorities and to help with the investigation, because safety and security of guests is paramount to us. We are also in touch with the guests, to ensure that their inconvenience is minimised."