New Delhi:
In the poster war that seasoned the Delhi civic election, the BJP today scored a punch line after its huge victory. As soon as there were clear signs of Arvind Kejriwal's Aam Aadmi Party (AAP) hurtling towards defeat, new posters came up in Delhi.
In them, BJP lawmaker Vijender Gupta beams and Mr Kejriwal holds his head, appearing pensive. "So Mr Kejriwal, who got MCD's controls? BJP!" the posters sneer; one is put up close to the Chief Minister's house.
The back story involves AAP's version of the poster put up earlier this month. The Delhi BJP complained to the Election Commission that AAP's posters showed Vijender Gupta - one of the four BJP lawmakers in Delhi and the leader of opposition - in a less than flattering manner next to the smiling Chief Minister. "MCD's control in whose hands? Kejriwal vs Vijendra Gupta" the poster was captioned.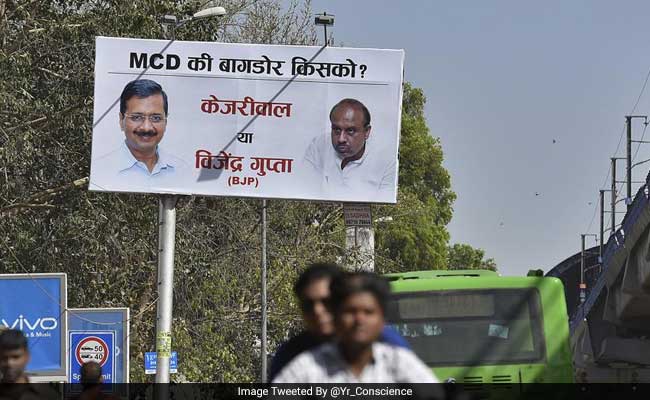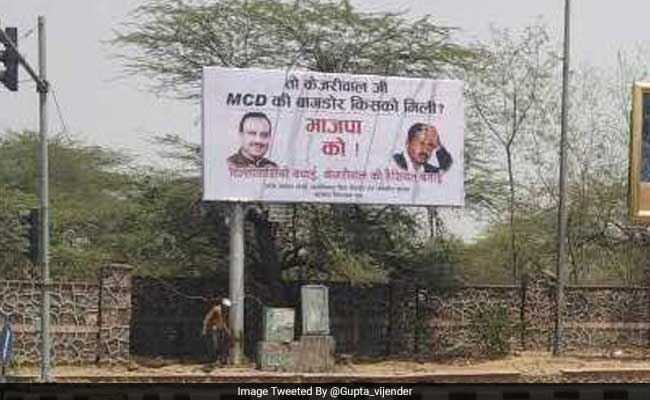 "The posters show a smiling face of Kejriwal but depict me in a distorted and villainous way," Mr Gupta had alleged, urging the election body to have them removed.
The fuming BJP leader also tweeted, "Does Arvind Kejriwal think MCD elections are a beauty contest?"
In response to a notice from the Election Commission, AAP replied that if Mr Gupta wasn't happy with the picture, he was free to send one that he liked for the hoardings, so that he's "not embarrassed".
The BJP then retaliated with a poster that used images of various AAP leaders accused of crimes.
But it was today that the BJP truly had the last word.