New Delhi:
A brutal thrashing from her son had made headlines, shocking not only 70-year-old Rajindri Devi but the nation. A horrific video of her bruised face and blood drenched clothes had been circulated online. But now, days after a police case was filed, Rajindri Devi wants to take it back, saying she got the bruises due to a fall.
Defending her 40-year-old son Nand Kishore, who was taken to the Tihar jail on Friday, she said the slap was unintentional. She said her son and the person who lives in their rented accommodation were fighting and she had walked into the middle of it and got hurt.
"I came in the middle and he slapped me (by mistake). I fell and hit my face on the sewer and got bruised," she said. "I made a severe mistake... I shouldn't have complained."
She wants to take back the First Information Report filed by the Shahdara police, saying she regrets it.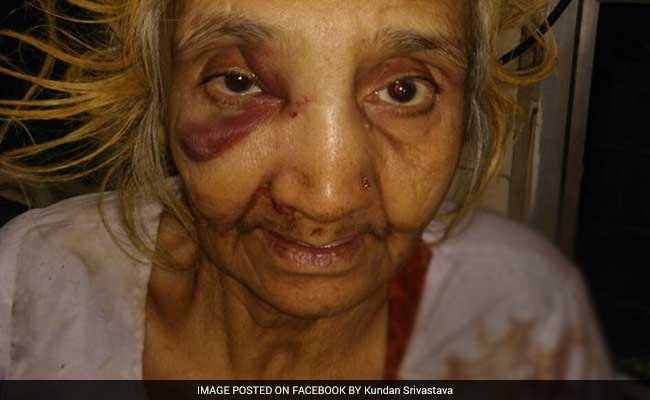 Kundan Srivastava, a human rights activist, who works on domestic violence and had shared the video on social media, said: "I shared the video on my Facebook profile after which it went viral. Gradually the incident was taken into consideration."
In his Facebook post, he wrote, "This elderly woman is 'Rajindari Devi' resident of Gali No. 8, Subhash Park, Shahdara, Delhi - 110032. On November 24, 2016, her son Nand Kishore (Nandu) brutally thrashed her to kill, but she was saved somehow. He always used to take her rental income, abused and beat her every day."
A survey by HelpAge India in 2011 says the highest percentage of crime faced by the elderly is in the septuagenarian age group. Of all those who were surveyed in the study, only 37% said they were willing to take action against the accused.
When asked, the majority, who weren't willing to take action, said it was because they were scared of facing the crime again. They felt no concrete action would be taken, that they would be shamed in the community or they would be unnecessarily involved in legal hassles.
While Rajindri Devi made the complaint, only to want to take it back, there are numerous cases of abuse against the elderly which continue unnoticed and unpunished.