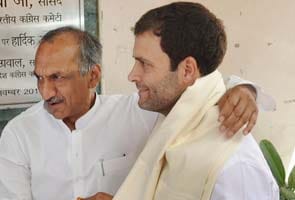 New Delhi:
With assembly election just months away, Congress Vice President Rahul Gandhi on Thursday asked party leaders in Delhi to work in unity to ensure a fourth successive victory for the party in the polls and sent out a clear message that indiscipline will not be tolerated by him.
At around five-hour long interaction with separate groups of Congress workers at DPCC office in Central Delhi, Mr Gandhi underlined the need for better coordination between the party and the government while asking MLAs, MPs and senior leaders to start preparations for the polls slated for November.
"The Congress President is soft. But I am not soft. I will not tolerate indiscipline. We must work unitedly," Mr Gandhi was quoted as saying by two MLAs.
The Congress Vice President held separate meetings of MPs, MLAs, district and block presidents of each of the seven parliamentary constituencies in Delhi. He held a separate meeting with party councillors from all three municipal corporations besides having another meeting with MLAs, MPs and Pradesh Congress Committee delegates.
"Rahul Gandhi told us to work unitedly and prepare for the assembly polls," said Ajay Maken, MP from New Delhi and Union Minister for Housing and Poverty Alleviation.
MP from Chandni Chowk Constituency Kapil Sibal said Mr Gandhi asked party workers to further strengthen the party at the grass-root level. "Rahul Gandhi aims to strengthen the party," he said.
Another MP said Mr Gandhi instructed the party leaders to take the achievements of Sheila Dikshit government as well as UPA government to the people.
A majority of party leaders, who attended the interactions today, described their meeting with Rahul Gandhi as a "morale booster".
"He (Rahul) said power should be decentralised and party should not be run by a few people. He also underlined the need for even taking views of block level party workers while recommending names for ticket aspirants in the assembly polls," said an MLA.
"Rahul Gandhi said the government may have shortcomings. But that does not mean that you will not take its achievements to the people," the MLA quoted Mr Gandhi as saying.
A majority of MLAs said that in almost all interactions Mr Gandhi asked all those present to speak about their views on various party-related issues.
"In our meeting, he even asked one block Congress president what he thinks about his role...He was very clear in his agenda. He wanted the party to be strengthened at the grassroot level," said an MLA.