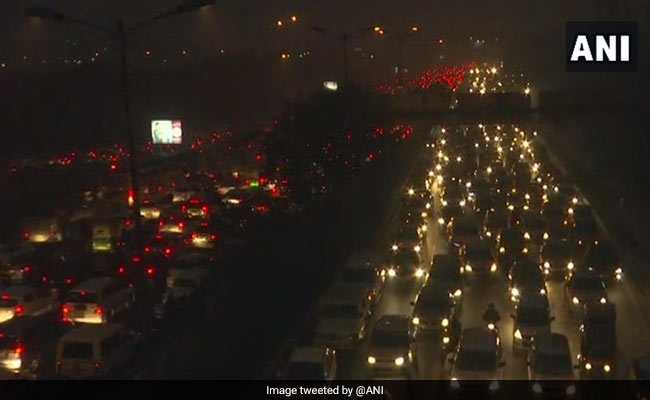 New Delhi:
The heart of Delhi has become an impenetrable maze of traffic as more than 2.5 lakh revellers descended en mass on India Gate, the war memorial that's part of the ceremonial axis that stretches from Raisina Hill, on the first evening of the New Year. The police said the figure was seven times of what was expected.

As traffic started slowing down since afternoon, the Traffic police was panned on Twitter for mismanagement.

People flooded social media with photos and comments, questioning how the police could have given permission for celebrations on a week day.

why traffic is heavy? where is uor officers on spot? how u can divert route without any prior information? now entire ITO,Tilag mark, CP, India gate jam due to u @dtptraffic. u don't hv any prior plan for traffic.

— देवऋषि नारद (@DevRishiNarada) January 1, 2018
How such a large gathering allowed at India Gate? We are struck at Khan Market and no way to go anywhere. @NBTDilli@abpnewstv@rjraunac

— deepak gupta (@dgug357) January 1, 2018
Delhi on the frst say of the new year. Traffic jama n choked roads. Traffic signals nt workin in d cp, ITO n india gate, heart of #delhi#delhijam@dtptraffic@fayedsouza@sudhirchaudhary@PMOIndia lets tlk abt #SmartCities where u tk 2.5 hrs to cross a half hr distnce pic.twitter.com/sOu9E33BYp

— monika nanda (@monikananda17) January 1, 2018

The Delhi Police responded:

Sir,more than 1 lakh visitors at India Gate to celebrate New Year. Heavy Traffic at India Gate, more than 50 Traffic officials are present and regulating the traffic.

— Delhi Traffic Police (@dtptraffic) January 1, 2018

The police had said earlier issued an advisory, saying traffic will remain very heavy near India Gate due to gathering of more than 1 lakh pedestrians and heavy volume of motorists.


But residents were not pleased.
If you tell in the middle how can I divert the route? Traffic management was very poor..and it is Monday how can you have given permission at India Gate..very pathetic @dtptraffic@ArvindKejriwal@DelhiPolice

— My Name Is RBK (@my_name_is_rbk) January 1, 2018

By evening, even adjoining areas like Barapullah, ITO and Delhi-Noida-Delhi flyway witnessed massive jams. An ambulance was seen stuck in traffic jam near Delhi's Mandi House circle.

The huge pile-up of vehicles worsened the air quality. Pollution tracking centres in the jam-hit areas showed a further rise in pollutants in the evening.The levels of lethal particulate matter in the national capital have been hovering around the danger mark since morning.