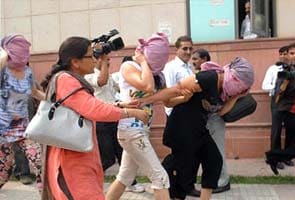 New Delhi:
Finally, the mastermind behind 'Delhi Top Escorts', one of the most popular website of its genre is in sights of Delhi police.
A sex racket was busted on Monday and a person named Deepak who used to work for Ashish, the brain behind the gang, has been held. Also, six foreign call girls and a female pimp were arrested. The girls are from Nepal, Uzbekistan and Kazakhstan. The lady pimp too is from Uzbekistan.
They used to serve only known clientele and people recommended by them. Sometimes they would accept booking through their website and communicate in foreign countries through it.
"The female pimp had visited India several times and operated in different areas of south Delhi. The call girls were staying in a rented accommodation there. They used to pay Rs 35,000 as rent," DCP (Crime), Ashok Chand said.
On being subjected to intense grilling, Deepak revealed that he worked for Ashish in return for a small commission. Once a client contacted Ashish he deployed Deepak for further dealing with the client and the call girls. The officials went there as clients following which a raid was conducted.
"Deepak who was there at the time of raid, took them to the decoy at a rented flat in south Delhi and both the pimps told them that the girls were available on paying anything between Rs 20,000 to 25,000," Chand said. "Probably, the girls came here only when they were in need of quick and good money. None of girls provided any kind of statement since language is a barrier for them."
They used to come there for five to six months on tourist visas. "They would stay here for that period and after their visa expired, would go back. The pimps had networks of their own at all these places and came with a different set of girls every time," added the police. The call girls were being paid around one lakh rupees a month.