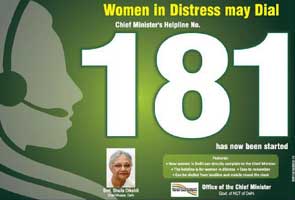 New Delhi:
The '181' helpline service for women in Delhi made a sputtering debut two weeks ago, hampered by technical glitches. A fortnight later, there are some encouraging signs of the service being streamlined, with more calls going through and being addressed.
When NDTV did a reality check a day after its launch, the helpline had two lines to receive calls and was manned by an all-male staff. Now, there's an all-woman team that fields calls in the control room, round the clock, in shifts.
"The staff that we have picked either has first-hand experience of harassment cases, or has experience in dealing with complaints of women in distress," says Khadija Farooqui, a human rights consultant to the Delhi Government.
Located in a special room in the Delhi Secretariat complex, the helpline now operates via three telephone incoming lines. As complaints and alerts come in, a floor manager forwards them same to either the Delhi Police or the Delhi Commission for Women, depending on the nature of the complaint.
Operators say that most of the distress calls come late in the evening - between 8 pm and midnight - and complaints of stalking top the list of grievances. Offensive calls and text messages are the other most-reported complaints.
"Earlier we were able to respond to only 20 per cent of the calls that we received; now that number has gone up to over 70 per cent," Kulanand Joshi, one of the personnel in charge of the helpline told NDTV.
The helpline was launched as part of a slew of measures by the Delhi government to improve the safety and security of women in the capital in the aftermath of the brutal December 16 gang-rape case.
Since the Delhi Police does not report to the Delhi government, this helpline acts more as a forwarding agency. The challenge now for the government is to effectively follow up on the complaints with the police and its agencies and ensure that they are addressed expeditiously.