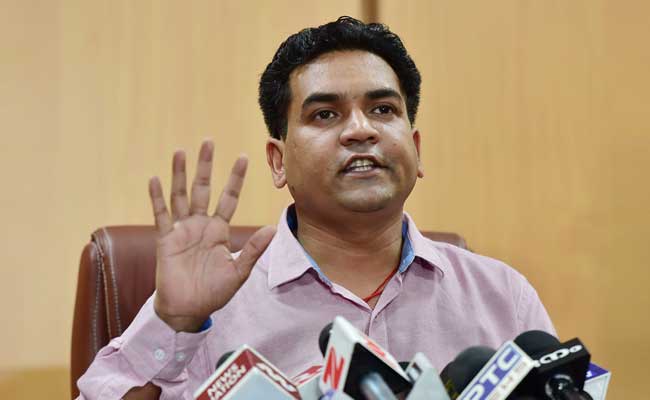 Highlights
Kapil Mishra led a rally in favour of CAA in northeast Delhi on Sunday
He gave an ultimatum to Delhi Police to clear the roads of protesters
The BJP Leader made the statement hours before clashes erupted there
New Delhi:
BJP leader Kapil Mishra, who was seen giving a three-day ultimatum to Delhi Police on Sunday to clear those protesting the citizenship law in northeast Delhi or face consequences, hit out at those who have been demanding his arrest for his provocative statements. 21 people have died and at least 200 injured since Sunday.
"Those who did not consider Burhan Wani and Afzal Guru as terrorists are calling Kapil Mishra a terrorist. Those who go to court to get Yakub Memon, Umar Khalid and Sharjeel Imam released are demanding the arrest of Kapil Mishra. Jai Shri Ram," the politician tweeted in Hindi this morning.
Mr Mishra, known for his communal and incendiary tweets, had led a rally on Sunday in favour of the Citizenship Amendment Act (CAA) in northeast Delhi's Maujpur area, near Jaffrabad, where a protest has been on since Saturday night against the citizenship law. At the rally, he gave an "ultimatum" to Delhi Police to clear the roads in the area or else, he said, they would have to hit the streets. Mr Mishra made the statement hours before clashes erupted between protesters against the citizenship law, and a group supporting the law.
"Three days' ultimatum for Delhi Police - clear the roads in Jaffrabad and Chand Bagh. After this, we won't listen to you," he declared. In a video of the speech he can be seen making these incendiary comments even as a Delhi Police officer stands next to him.
The BJP leader has been criticised by opposition leaders and a large section of social media users over his comments.
His party colleague, BJP MP Gautam Gambhir, hit out at Mr Mishra on Tuesday, saying strict action must be taken against those responsible for such provocative statements, irrespective of their allegiance.
"This is unfortunate. Whoever has done this, strict action must be taken - whether from BJP, Congress or AAP. Kapil Mishra's speech is not acceptable. This is about Delhi not about any political party," Mr Gambhir said as he visited a hospital where injured policemen are being treated.
Delhi BJP chief Manoj Tiwari too appealed to all the party leaders to work towards establishing peace in the national capital and not to do anything that causes "confusion" and sends a "wrong message" to people.
Left leader Brinda Karat wrote to Union Home Minister Amit Shah, blaming Kapil Mishra for the violence in northeast Delhi and demanded his arrest.
In a series of tweets on Tuesday, Mr Mishra said he was being abused and "death threats" had been issued against him. He also claimed he had not committed a crime by supporting the CAA.
"I have received calls by many to kill me. Many people including politicians and journalists are abusing me. But, I am not scared because I have not done anything wrong," Mr Mishra was quoted as saying by news agency PTI.
Kapil Mishra, who unsuccessfully contested this month's Delhi election, has been widely condemned for his hate speeches since protests broke out against the CAA over two months ago, including shouting slogans "shoot the traitors".