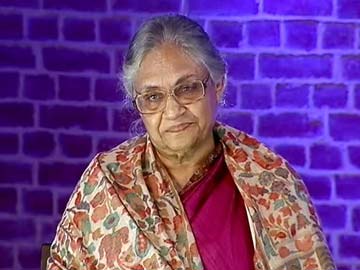 New Delhi:
Just a week ahead of the assembly polls, Chief Minister Sheila Dikshit has bowed to years of public criticism of the controversial Bus Rapid Transit (BRT) corridor in South Delhi, promising to scrap it if Congress retained power in the December 4 election.
Ms Dikshit, who had been strongly defending the project despite widespread opposition to it, candidly admitted that her government could not make the corridor successful because of which the plan for 14 other similar projects was shelved.
"We could not make the project successful. We already suspended all other BRT projects. The concept did not meet the expectation. So we will have to scrap it," she said when asked about the project.
The BJP has been demanding the suspension of the BRT corridor and said that it will dismantle it if voted to power.
Since its inception in 2008, Ms Dikshit had supported the BRT, arguing that there has been improvement in movement of traffic on the stretch between Ambedkar Nagar and Delhi Gate.
Earlier this year, following a court case and controversy related to the BRT stretch, construction of 14 such corridors was put on hold. In October last year, the Delhi Cabinet had given an in-principle approval for construction of seven BRT corridors out of proposed 14.
The corridor was constructed by Delhi Integrated Multi-Modal Transit System (DIMMTS), a joint-venture company set up by Delhi government and Infrastructure Development Finance Corporation.
Some of the proposed BRTs are in East Delhi while others have been planned for West and North Delhi.
In a report earlier this year, the Central Road Research Institute (CRRI) had favoured dismantling the corridor. The CRRI had found that speed of the vehicles was considerably lower on the BRT stretch than other stretches.
The government had spent around Rs 150 crore to build the BRT corridor.