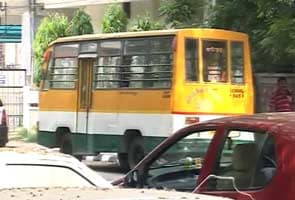 New Delhi:
A school bus driver and his helper were arrested from south Delhi's Hauz Khas area on Thursday for allegedly showing children pornographic clips, police said.
The duo, identified as Asgar Ali and Mohd Shamim, 26, were arrested after a complaint was filed by the father of one of the victims with police that they had forced children to watch porn clips on their mobile phones. Some of the children were as young as 10.
A case under Sections 10 and 12 of Protection of Children from Sexual Offences (POCSO) Act has been registered against them. Investigations have so far revealed that the duo hadn't sexually assaulted anyone, said the police. They lived in Kotla Mubarakpur area in south Delhi.
According to the police, the accused used to show clips to a few children on the bus. Others had complained about this to their teachers. The police said they have seized the mobile phones of the accused.