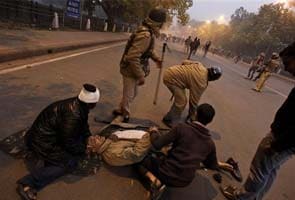 New Delhi:
Constable Subhash Tomar, who had a heart attack after being injured in yesterday's protests at Delhi, is fighting for his life in hospital.
At India Gate on Sunday, thousands of protesters defied police orders and gathered at India Gate to demand stricter laws against rape and more safety for women in the capital.
The police used tear-gas and water-cannons repeatedly, partly because some miscreants in the crowd set a car and wooden benches on fire.
The protests have been scaling up over the last week since a young medical student was gang-raped in a moving bus in the heart of Delhi.
Mr Tomar's son told NDTV when he saw the violence at India Gate yesterday, he phoned his father on his cellphone. Someone else answered and said Mr Tomar, who is 45, had fallen to the ground and was being moved to hospital.