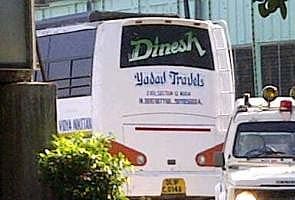 New Delhi:
The bus in which a 23-year-medical student was gang-raped and assaulted was used by two schools in Delhi to transport school children. One of the schools, Birla Vidya Niketan in south Delhi, has now cancelled the contract with Yadav travels, owned by a man named Dinesh Yadav, which had supplied six buses to it including the one used for Sunday's crime, according to sources. The school is now making alternate arrangements for transportation of its students, the sources added.
During its investigation, the Delhi Police had contacted the school and seized details of its drivers and conductors to check if all necessary police verifications were made. Under the law, it is mandatory for all drivers of Delhi's two lakh plus buses, autos and taxis to obtain a Public Service Badge or PSV, which comes with mandatory police verification. The police are currently investigating if Ram Singh, the driver of the bus and the prime accused in Sunday's gang-rape case, had a PSV.
Recent enforcement drives by the police have brought up at least 450 cases when drivers of chartered buses, like the one used in the gang-rape, did not have the PSV badge or police verification. The transport department says the onus is on the schools, which hire these buses for transportation of its students, to insist on documents before allowing drivers to ferry their students.
Tour operator Venkatesh says verification does not take place often because "drivers are sometimes employed from suburbs of the national capital like Bulandshahr, Ghaziabad and Noida where drivers are not verified."
With the outrage over the gang-rape spreading, Noida authorities today said that it is going to crack down on drivers without proper permits. However, sources in the Delhi transport department say that they don't have enough manpower to hold sustained large scale drives.
On Sunday, 30-year-old Ram Singh, his brother and friends were moonlighting. They spotted the student and her friend at the Munirka bus stop in south Delhi and called out to them saying the bus was headed to Dwarka, where the woman lives.
On the bus, the sources said, an argument began when the accused asked the man what he was doing with a young woman at that time of the night. They dragged her to the back of the moving bus and repeatedly raped her and punched her in the stomach.
They also beat her friend with an iron rod. After almost an hour of the torture, they allegedly threw the two out of the bus, stripped of much of their clothing, on a flyover.
They were found unconscious there and were taken to hospital by the police, where the woman has undergone multiple surgeries and is now on ventilator support with what doctors have described as "irreparable damage" to her abdomen and intestines.