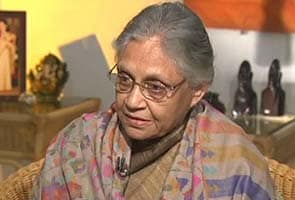 New Delhi:
Under attack for the rise in power tariff, Delhi Chief Minister Sheila Dikshit on Sunday said people will have to pay if they want round-the-clock power supply.
Mrs Dikshit even said that if people are finding it difficult to pay the billed amount they should cut down consumption of electricity.
"We have been supplying power round-the-clock. We are not supplying power periodically. When 24 hours supply is ensured, the Opposition says the bill is too high. If you consume electricity for 24 hours, then you do not pay for five hours' consumption," she said.
"If you cannot afford the electricity bill then cut down your consumption of electricity. Future generations will never realise there used to be seven to eight hours power cuts in Delhi," Mrs Dikshit said at a meeting in Chhatarpur, south Delhi.
Justifying the hike in power tariff, the Chief Minister said the cost of power production has resulted in hike in power tariff. "If somebody is finding it difficult to pay the bill then he can use a fan instead of a cooler. One can always cut down consumption of power to limit the bill," she said.
Delhi BJP president Vijay Goel accused the Chief Minister of "favouring" discoms and ignoring the alleged corruption in these power distribution companies.
"She (Dikshit) is favouring discoms. There is mass corruption in electricity by the discoms but Chief Minister Sheila Dikshit, instead of checking it, is giving statement about electricity being used by poor people," Mr Goel said.
The BJP has been targeting the city government on the issue of hike in power tariff and accused it of siding with the private power distribution companies.
The power tariff in Delhi was hiked by 22 per cent in 2011 and again increased by 26 per cent for domestic consumers in July last year. The tariff was again hiked by up to three per cent from February 1 this year.
For the last five years, Delhi government has been providing subsidy of Rs 1 per unit for domestic customers whose monthly power consumption does not exceed 200 units.
The Delhi government had last week offered a bailout package to Tata Power Delhi Distribution Ltd (TPDDL) by infusing fresh equity of Rs 245 crore into the company to help it tide over its financial crisis. The government has 49 per cent share in TPDDL.
Over a year ago, Delhi government had offered a similar bailout package to Reliance Infrastructure-backed discom BSES by infusing fresh equity of Rs 500 crore to the company.
Reliance had infused Rs 520 crore and the total amount of Rs 1,020 crore was used for getting a loan of Rs 5,000 crore from IDBI bank.
The Delhi Electricity Regulatory Commission (DERC) had a few days written to the Chief Minister seeking a bailout package for the private power distribution companies.