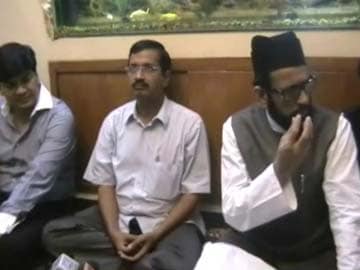 New Delhi:
Arvind Kejriwal has sought support for his Aam Aadmi Party from a controversial Uttar Pradesh cleric who had issued a fatwa against Bangladeshi writer Taslima Nasreen some years ago.
Maulana Tauqeer Raza Khan said about the two-hour meeting in Bareilly, "Kejriwal came to meet me at my residence. I liked his simplicity. He is against the Congress and BJP. This is a common factor between us and I assured him of my support."
The cleric has reportedly promised to address some AAP rallies in Delhi, which votes for a new Assembly on December 4.
Taslima Nasreen's tweet today brought attention to the meeting. She said, "A politician asks for support from anti-women,anti-free speech,Muslim fanatic,who illegally sets price on ppl's heads (sic)."
"Politicians shd go 2 ordinary Muslims if they need their votes,not 2Muslim fanatics who are responsible for Muslim community's backwardness (sic)," said another tweet by the author.
In 2007, the Maulana had said that Ms Nasreen must burn her books, denounced by many clerics as anti-Islam, and leave India to have a fatwa or legal pronouncement against her rescinded.
In 2010, he was arrested and jailed for allegedly making inflammatory speeches during communal riots in Bareilly. He was later released.
Mr Kejriwal today tried to play down the meeting, saying, "I am meeting people from all strata of society, there is nothing more to it."
But the BJP's Subramaniam Swamy has accused him of "attracting anti-national elements" and said he is "promoting the Congress' game plan"
Many see in Mr Kejriwal's recent comments and tactical photo-ops an effort to negate allegations that he had cosied up to the right-wing Rashtriya Swayamsevak Sangh in his previous avatar of anti-graft activist and Anna Hazare aide.
Maulana Khan heads a political outfit called the Ittehad-e-Millat Council which has one Assembly seat in UP and is an ally of the ruling Samajwadi Party.
The cleric had recently quit a government post with minister-level perks to protest against the Akhilesh Yadav government's handling of the Muzaffarnagar communal riots in September. He later reportedly patched up with SP chief Mulayam Singh YAdav.
The SP does not have a big presence in Delhi and contests very few of the 70 assembly seats in Delhi. Elections in the capital have always been a straight contest between the ruling Congress and the BJP. But this year Mr Kejriwal's party is contesting all seats and might play spoiler in quite a few, says analysts.