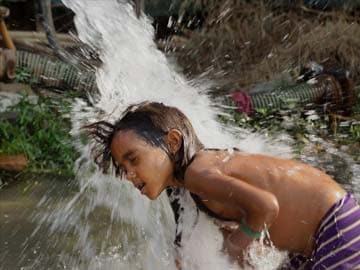 New Delhi:
Today is Delhi's hottest day in 62 years. The area around Palam airport recorded a maximum temperature of 47.8 degree Celsius, the highest ever since 1952, the weather department said. (
Heat Wave: Share your photos, videos here
)
The highest temperature recorded in Delhi before this was 47.4 degree Celsius at Palam on June 16, 1995.
The weather office also said that the Indira Gandhi International Airport and the adjacent areas of South West Delhi are likely to be hit by thunderstorm and dust storm this evening.
Airport authorities say that such severe conditions will affect flight movement because the atmosphere becomes unstable. The aircraft will not get the required thrust during lift-off; they will have to carry less baggage, authorities said.
The city has been witnessing a spell of hot weather over the past few days, with temperature hovering around 45 degrees Celsius.
Yesterday, the temperature in Palam area settled at 47 degree Celsius, a day after it registered a scorching 47.2 degree Celsius, the hottest in the last 19 years.