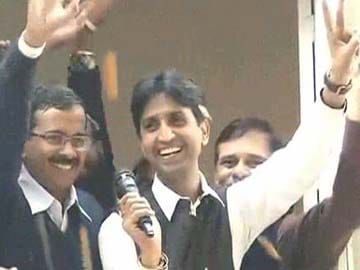 New Delhi:
In a mega political bender, rookie politician Arvind Kejriwal has defeated three-time chief minister Sheila Dikshit in her constituency of New Delhi. (
Mango man Arvind Kejriwal tastes sweet success
)
The 44-year-old emerged after hours of meditation at his party office, wearing his trademark white Gandhi cap. "This is a victory of the people...it shows India has won, democracy has won," he said to a huge crowd of supporters, all brandishing brooms, the symbol of his one-year-old Aam Aadmi party.
Voters mercilessly spurned Ms Dikshit and her party, permitting the incumbent Congress less than 10 of Delhi's 70 seats. The BJP has emerged as the single-largest party in the capital with 34 seats, one short of the half-way mark. If the results deliver a hung assembly for Delhi, Mr Kejriwal is emphatic that he will not align with either the Congress or the BJP. (
All you wanted to know about Sheila Dikshit but didn't know who to ask
)
The symmetrical stellar performances of Mr Kejriwal and his AAP imputed a double take the Congress and the BJP, who repeatedly dismissed the new organization as an upstart throughout the campaign for Delhi.
Ignoring those dismissals, an army of meticulously-organized volunteers spread Mr Kejriwal's message: that the Aam Aadmi Party (AAP) stands for anti-corruption, service and accountability in a country robbed of effective and clean governance.
The record 65.86% turnout in Delhi is being attributed partly to an enthusiastic welcome for the AAP, formed after Mr Kejriwal split from his one-time partner Anna Hazare. In 2011, they invigorated middle class India with a movement demanding the Lopkal bill, the genesis for a new national ombudsman or Lokpal empowered to investigate charges of venality against elected representatives and bureaucrats.
But after a strong launch, the movement dissipated; Mr Kejriwal said he had no choice but to enter politics, a move Anna said he could not get behind.