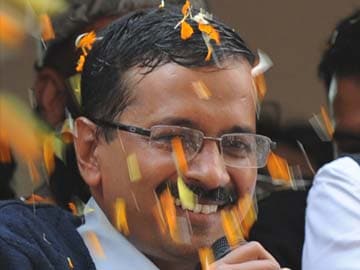 New Delhi:
In a mega political bender, rookie politician Arvind Kejriwal has defeated three-time chief minister Sheila Dikshit in her constituency of New Delhi.
The 44-year-old, who spent the morning meditating at his party office, emerged to a shower of flowers and cheers once his victory was confirmed.
"This election showed the way for honest politics. This is an indication that if the Congress and BJP don't change, they will be removed," he said this evening as his supporters brandished brooms, the symbol of his one-year-old Aam Aadmi Party (AAP).
He promised that his party would be a "responsible opposition" in Delhi.
Voters mercilessly spurned Ms Dikshit and her party, permitting the incumbent Congress less than 10 of Delhi's 70 seats. The BJP has emerged as the maximum seats with 33 seats, two short of what it needs to form the government. Mr Kejriwal is emphatic that he will not align with either the Congress or the BJP.
The symmetrically stellar performances of Mr Kejriwal and his AAP have stumped the Congress and the BJP, who repeatedly dismissed the new organization as an upstart throughout the campaign for Delhi.
Unshaken, an army of meticulously-organized volunteers spread Mr Kejriwal's message: that the Aam Aadmi Party (AAP) stands for anti-corruption, service and accountability in a country robbed of effective and clean governance.
"We did not expect a newcomer with no clear agenda to have this sort of impact," admitted the BJP's Chandan Mitra.
Critics of Mr Kejriwal say his party's economic policies are unsound and that its kinetic energy will not sustain till the national election, due by May.
The record 65.86% turnout in Delhi is being attributed partly to an enthusiastic welcome for the AAP, formed after Mr Kejriwal split from his one-time partner Anna Hazare. In 2011, they invigorated middle class India with a movement demanding the introduction of the new anti-graft Lokpal Bill.
After a strong launch, the campaign dissipated; Mr Kejriwal said he had no choice but to enter politics, a move Anna said he could not support.
Get Breaking news, live coverage, and Latest News from India and around the world on NDTV.com. Catch all the Live TV action on NDTV 24x7 and NDTV India. Like us on Facebook or follow us on Twitter and Instagram for latest news and live news updates.