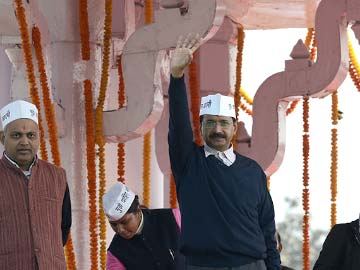 New Delhi:
Arvind Kejriwal
is unwell and will not attend office on Monday, his third day as Delhi's chief minister. But he is reportedly keen to pass an executive order to provide 700 litres of free water to every household in the capital.
He tweeted this morning, "Running 102 fever since yesterday. Severe loose motions. Sad that i won't be able to attend office today."
In another tweet, the capital's new chief minister rued that he has fallen ill at such a time. "It was so important to attend office today. We had planned the water announcement," he said.
His six Aam Aadmi Party ministers meanwhile will hold a "darbar" or open house in the Delhi secretariat lawns at noon, where VIP gates will be opened for members of the public who can come and register their complaints and problems.
This is to dissuade them from flocking to Mr Kejriwal's Ghaziabad residence. Yesterday, the police had to be called in to control huge crowds that had gathered to discuss their problems with the new CM, who has promised complete access to the aam aadmi or common man.
He told the crowds on Sunday, "Give us a week, 10 days to settle down and put our systems in place. It shouldn't be like this that we accept your problems but are unable to take it forward and solve it."
Mr Kejriwal, who has retained key portfolios in the Delhi government, will reportedly go ahead with a crucial meeting of the Delhi Jal Board at his home this evening. He wants to rush through with the water decision as a 10 per cent hike in water tariffs will come into effect from Wednesday, January 1.
Reaching water to every home in Delhi is one of his key election promises. The proposed 700-litre-free scheme has been criticised as untenable and expensive and one that will lead to wastage of water, but Mr Kejriwal's party has argued that it will in fact encourage water conservation as those who use more than the free amount will pay substantially more.