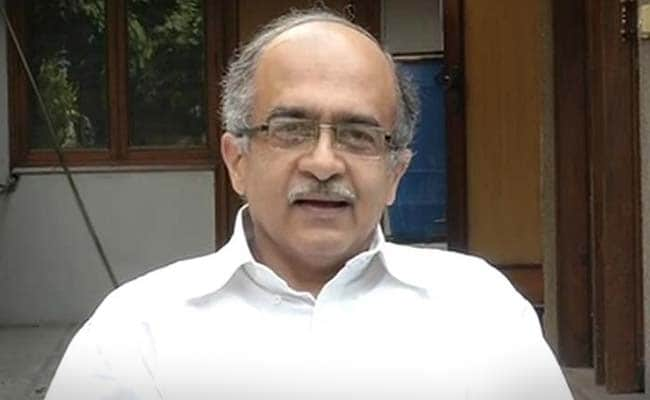 New Delhi:
Swaraj Abhiyan leader Prashant Bhushan on Friday claimed the Delhi government's new Janlokpal Bill is different from what was drafted during the Anna Hazare-led anti-corruption movement, as the appointment and removal of an independent ombudsman will now be done by the state government.
Prashant Bhushan, a noted lawyer, said the bill "thrashes" all the principles of an independent Lokpal and it is "worst than a Jokepal" -- a term used by the Aam Aadmi Party (AAP) after the Centre passed its Lokpal bill, and that it was designed to fail.
"Delhi Lokpal bill trashes all principles of an independent Janlokpal that we had drafted: Appointment & removal not under government; Independent Investigating agency under Lokpal. Saw shockingly dishonest Delhi Lokpal bill: Appointment & removal by Delhi Government; No investigating agency under it; Empowered to investigate Government Of India as well; Designed to fail! (sic)" Prashant Bhushan said on Twitter.
Led by activist Anna Hazare, Prashant Bhushan and his father Shanti Bhushan, along with Delhi Chief Minister Arvind Kejriwal and his deputy Manish Sisodia, Kiran Bedi were among the leading faces in the fight for a Lokpal.
Prashant Bhushan, who formed Swaraj Abhiyan after being expelled from AAP, said the appointment and removal of Lokpal by the government itself fails the whole purpose.
"The Chief Minister, speaker, the Chief Justice of Delhi and the Leader of the Opposition will choose a Lokpal. This means of the four, three are from political class and two (the CM and the Speaker) are from the ruling party or the government. The dismal will be in the hands of the government as it prescribes removal by a two-third majority. Our fight was that the appointment and removal of Lokpal should be free from political interference," Prashant Bhushan said.
He said by bringing the Government of India under the ambit of Delhi Lokpal, itself means failing the legislation as the Centre will not give its consent for such a bill. He also accused the Kejriwal government of not making the contents of the bill public.
"Kejriwal will table the bill on Monday, pass it and send it to the Centre. The Centre will obviously not pass it and the Delhi government will make hue and cry over the issue," Prashant Bhushan added.
He noted that under the original Lokpal draft there was a demand to bring the CBI under the Lokpal, but under the proposed legislation, the investigating agency will aided by the officers recommended by the Delhi government.
The AAP and the government declined to comment on the issue.