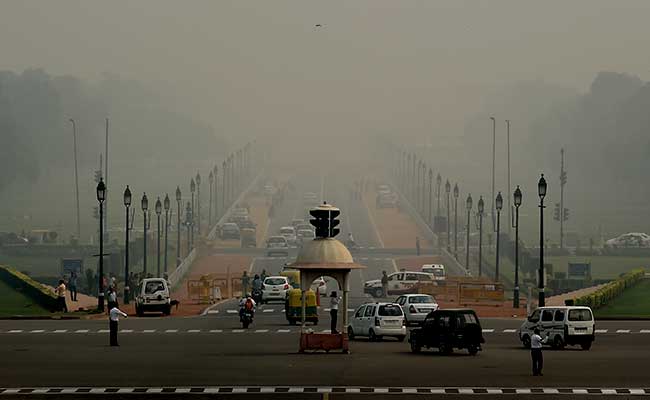 New Delhi:
It was straight third day that Delhi residents woke up to a "foggy" morning, with many complaining about irritation in eyes and a cough, thanks to the air quality that plunged to the record low on Wednesday.
A pall of smog was hanging over the city since the morning as pollutants hang close to the surface. The reason was a drop in wind speed, coupled with increase in humidity and low temperature, which worsened the situation and took the Air Quality Index (AQI) to the "severe" level, said air monitoring agencies. Anand Vihar recoded AQI at 494 on Wednesday morning.
Notebly, the AQI was improved to "very poor" level on Tuesday after it was recorded at "severe level" on Monday after the Diwali night (October 30).
Adverse climatic conditions, especially low wind speed have blocked dispersal of pollutants from the air from last several days, taking the toxicity level in the region at its worst level since Diwali night, said the air monitoring agencies.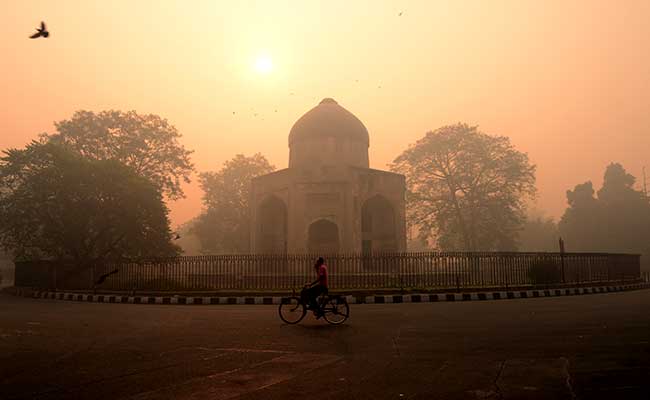 On Wednesday, a little improvement in the AQI was seen but it still remained at the "severe" level.
Delhi resident Raunak Khot said: "Although Diwali is over, I can still smell fire-crackers. Smog can be seen through day, which is causing breathing problems."
Air quality-monitoring agencies said the pollution level will remain 'severe' for the next couple of days due to adverse climatic conditions.
According to the Central Pollution Control Board (CPCB), the AQI touched the figure of 494 in Anad Vihar area on Wednesday morning. The average AQI rating for Delhi and NCR was 432, or the "severe" category.
The index stood at 445 on Monday and 389 on Tuesday.
The System of Air Quality and Weather Forecasting and Research (SAFAR) of the Ministry of Earth Science also painted a grim picture about the pollution in the city.
An official said that pollution level in Delhi is set to remain 'severe' for a few more days, thanks to a drop in wind speed and temperature, and increase in humidity.
"On Tuesday, wind speed had increased to two km per hour, which helped in the dispersion of pollutants to some extent. However, the wind speed is below one kmph today (Wednesday). Wind flowing from Haryana and Punjab has stopped completely. In addition, there is considerable drop in temperature and increase in humidity. All these factors have blocked dispersal of pollutants," said Neha Parkhi, a researcher at SAFAR.
Delhi has been witnessing low visibility due to higher concentration of pollutants hanging in the air, made worse by bursting of firecrackers during Diwali.
In addition, emissions from vehicular traffic and burning of agricultural residue in neighbouring states are adding to the pollution.
"Wind speed is zero; so is vertical wind speed. And the bursting of firecrackers, apart from pollution by vehicles and power plants, are contributory factors," Vivek Chattopadhyay, a member of centre for Science and Environment, told IANS.
Air quality in cities like Mumbai and Pune has however improved significantly since Diwali due to high winds.
On Wednesday, various locations across the National Capital Region showed PM2.5 and PM10 levels much above the safe limits. While PM2.5 levels ranged between 408 microns per cubic meter to over 500 microns per cubic meter, PM10 levels were between 392 microns per cubic meter to over 500 microns per cubic meter.
Particulate Matter less than 10 micrometres in diameter (PM10) are so small that they can get into lungs, likely causing serious health problems. Particulate Matter less than 2.5 micrometers in diameter (PM2.5) are more refined particles produced by burning fuels.
While the concentration of sulphur dioxide was at satisfactory level, nitrogen dioxide was still in the poor category on Monday, the CPCB said.
Air quality in Varanasi reached to dangerous levels on Wednesday after PM 2.5 were found as high as 999 microns per cubic meter. Varanasi is represented by Prime Minister Narendra Modi in Loksabha.
Senior Pulmonologist and Director of Allergy Clinic, Dr. RN Vajpeyee told media persons that such levels are disastrous for the health of both children and old alike.