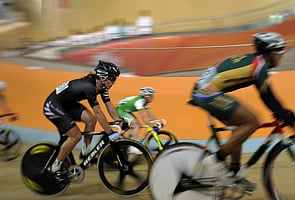 New Delhi:
The unseeded Indian cycling team began their Commonwealth Games campaign on a lacklustre note in the track cycling event in both men's and women's category at the Indira Gandhi Stadium on Tuesday.
Sombir, Vinod Mallik and Dayala Ram Saran failed to qualify for the men's individual pursuit with Sombir being the best of the three by fininshing with a timing of 4:54 minutes.
In the women's 500 m time trial finals, Indian women failed to beat the likes of reigning Commonwealth record holder Anna Meares. Australia's Meares defended her Commonwealth title by earning a gold in this category and breaking her previous record by almost a second.
Australia prevailed again in the men's 1 km time trial with Scott Sunderland breaking the previous Commonwealth record of Chris Hoy's 1:01.726 minutes with 1:01.411minutes. Hoy was one of few athletes who withdrew citing health reasons.
Out of the three Indian participants in this category Bikram Singh was better with 1:05.095 minutes on the board.
The last event of the day saw India's Rajender Bishnoi finishing seventh in men's 40 km Points Race qualifier with South African Dean Sean Edwards winning the race with 11 points.
Indian head coach Chayan Chowdhury said winning the race is not the only agenda for the team, improving the time is a must too.
"We are trying to improve our timing. If we win, then it's fine but there is very slight hope of winning medals for us. We might win one or two," said Chowdhury.
Indian track racer Sombir said, " Everybody is here to win but winning is not everything. This is our next step for the next stage, Asain Championships."
Interestingly, all the cyclists have high praise for the cycling velodrome. In a recent interview New Zealand's Jesse Sergent said the velodrome was one of the best he has seen.
However, it seems Commonwealth gold medallist Anna Meares has some reservations about the track here.
"Velodrome is a beautiful one. The shape of it isn't particularly quick. Velodromes do tend to come in two different shapes. This one has a very long stride at the top bend and some come in short stride at big bend.
"For me, faster track is the one with the big bend, generating lot of speed. This one is not probably as quick as some in the world are but she moves all right still," said Meares.
The Indian team will be in the fray in four events tomorrow, two in women's event and two in men's. Women will be competing in 25 km Points Race and Team Sprint while men will compete in 40 km Points Race and Keirin race.
India's Suchitra Devi Konsam, Mahita Mohan and Rejni Kumari will be particpating in woemn's event and Rajesh Chandrashekhar, Amrit Singh and Bikram Singh will be India's representatives on the tracks.