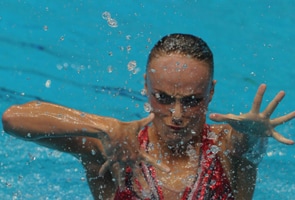 New Delhi:
Canada's Marie-Pier Boudreau-Gagnon on Wednesday won gold in the solo synchronised swimming, retaining the title she first won four years ago.
The 27-year-old Quebecoise posted a combined score of 95.334, with England's Jenna Randall taking silver in a repeat of the one-two in Melbourne in 2006. Lauren Smith of Scotland won bronze.
Boudreau-Gagnon, a World Championships bronze medallist, had set the marker in the technical solo part of the two-day competition on Wednesday and was overwhelming favourite going into Thursday's free routine.
Randall's strong challenge in both disciplines gave her a combined scored of 90.000, well ahead of Smith's 80.084.
Smith's score was just enough to take third place from Australia's Tarren Otte, who came back from fifth in the technical solo to take fourth spot from Malaysia's Katrina Abdul Hadi.
Otte had a long wait at poolside before her three-minute routine after Abdul Hadi's scores for artistic merit failed to appear on the giant scoreboard, prompting referee Sue Edwards to step in.
Boudreau-Gagnon is hoping for a double gold to retain her title in the duet with partner Chloe Isaacs.
Canada's synchro swimmers have won gold in every Commonwealth solo and duet competition since 1986.