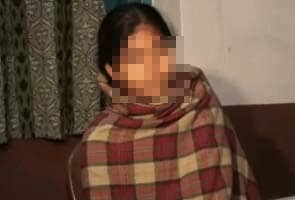 Katwa, West Bengal:
A woman was allegedly gang-raped after she tried to put up a resistance during a robbery attempt in a train near Katwa in the Burdwan district of West Bengal.
The incident occurred at around 7:15 pm on Saturday when the train was passing through the Ahmedpur-Katwa section between the Pachandi and Ambalgram stations. A person allegedly approached the guard and asked him to apply brakes, saying a passenger had fallen on the tracks. The guard alerted the driver, who stopped the train. When he got off the train, a gang armed with guns and choppers surrounded him, pointed a gun to his head and snatched his walkie-talkie, mobile phone and other valuables. They then proceeded to loot the passengers on the train, most of who were daily commuters.
The alleged victim, a widow, told the police that when she tried to object, she was dragged out of the train and raped by five men on the railway tracks.
"They took away jewellery from my hands first, then they tried taking my earrings. I resisted so they started beating me. Then they took away my earrings. They also took away Rs. 1000 from me. Then they dragged me out of the train and raped me. Then one of them asked the others to leave me as I was crying," the woman said.
Meanwhile, the other women inside the train who also raised a protest were beaten up. The driver and guard sustained minor injuries in the incident.
The alleged victim has been taken to Katwa for a medical test and further investigation. No FIR has been registered in the case so far.
"We haven't received any formal complaint about the rape as yet but the guard and driver of the train lodged a complaint of robbery. There are also allegations that a woman was taken away by the criminals. It seems no molestation or rape took place on the train. But if any molestation or rape occurred elsewhere, I have directed the Government Railway Police to take cognizance," said Dilip Mitra, DG, railways.
The incident at Katwa is the third instance of rape reported in the state in recent days. The first is the high-profile rape case in Kolkata's Park Street which has snowballed into a huge political controversy following West Bengal Chief Minister Mamata Banerjee's remarks dismissing the incident as an attempt to malign her government. This immediately sparked criticism from the Opposition which slammed Ms Banerjee for being "insensitive".
On Friday, a middle-aged woman died after she was raped allegedly by a truck driver and his helper in the Baranagar area under North 24-Parganas district.