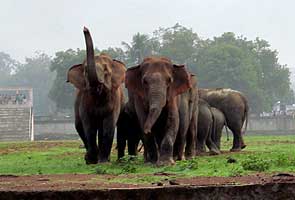 Rourkela:
There is panic in Odisha's steel city Rourkela after a herd of wild elephants found their way into the local Bisra stadium on Friday evening. They are believed to have strayed from the Saranda forests in neighbouring Jharkhand.
The influx of jumbos in the Kuanrmunda forest range had been noticed in March this year, and some of them had even come perilously close to human habitation on the outskirts of the city.
However, this time as many as 11 wild elephants, including tuskers and baby elephants, have not only entered the city limits but virtually taken over the sprawling Bisra Maidan. Sources said the 11 strong herd comprise six females, two males and three calves which had stayed for the last couple of days near the Bisra Rehabilitation and Settlement (RS) Colony.
Fortunately, all the entry points to the stadium have been sealed, thus ensuring the pachyderms do not venture into the crowded colonies near the stadium. The elephants did not harm anybody but damaged a wall, a few kiosks and three auto rickshaws before crossing the Ring Road and then reaching the stadium, the sources said.
But, police and forest officials have had a tough time controlling the swelling number of curious people thronging the Bisra Maidan since morning.
The presence of such a large herd of wild jumbos has kept the local authorities as well as those living near the Bisra Maidan on tenterhooks. Forest officials say the elephants can be chased away only after it gets dark.
"We are planning to start the process of evacuation during night, say by ten. For that, preparations are underway," said Divisional Forest Officer Panposh range, S Kumar.