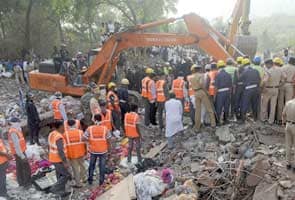 Thane:
Investigations into Wednesday's building collapse in Thane have thrown up some shocking revelations. The police say they now have proof that the builders of the illegal seven-storey structure had bribed NCP corporator Hira Patil and Assistant Police Sub-Inspector J Sayyed to turn a blind eye to the unauthorised and shoddy construction, despite the fact that a complaint had been filed.
"We found that civic officials were repeatedly bribed. Even police constable was also bribed... After Anti-Corruption Bureau raids, we found Rs 5 lakh from the residence of Deputy Municipal Commissioner Deepak Chavan... Hira Patil, local NCP corporator took bribe from the accused," Thane Police Commissioner KP Raghuvanshi said in a press conference today.
"A big racket has been unearthed. Builders were pushing people to stay in the building so that it is difficult to demolish the place," Mr Raghuvanshi added.
The Nationalist Congress Party or NCP has suspended corporator Hira Patil. He is one of the nine people who have been arrested for the building's collapse which has claimed 74 lives so far. The NCP has demanded action against all those involved in illegal constructions and said "let us not wait for another tragedy, take action now."
Apart from Mr Patil, the arrested officials include top civic officials like Deputy Municipal Commissioner Deepak Chavan, who has been suspended, and Assistant Municipal Commissioner Babasaheb Andhale. The fly-by-night builders, Jamil Qureshi and Salim Sheikh, were arrested yesterday.
The charges against the accused are culpable homicide not amounting to murder, criminal conspiracy, abuse of official position by a public servant and common intent, among others. All the accused were produced in a Thane court today and have been sent to police custody till April 20.
The illegal seven-storey building, which was under construction, had collapsed at 6:30 pm on Thursday. Rescue work lasted for nearly 40 hours. Over 60 people have been injured; some are still in hospital battling injuries.
The building had reportedly come up in just six weeks, with sub-standard material. An eighth floor was under construction when it collapsed. Homes, offices and shops had been set up within the building without an occupancy certificate.