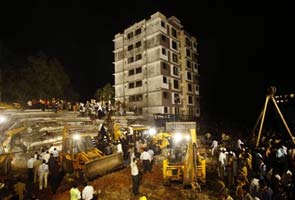 Thane:
Fifty eight people have died, over 60 are injured, and 20 people are still missing as rescue workers continue to cut through the mangled steel and concrete remains of a seven-storey building which collapsed on Thursday evening in Mumbai suburb Thane.
Maharashtra Chief Minister Prithviraj Chavan has confirmed that the building was illegal and ordered an enquiry to determine why local officials did not spot the construction and stop it. The Deputy Municipal Commissioner has been suspended.
(Watch: Who is responsible?)
Among those who have died are 22 children. The victims were mostly poor daily wagers working at the construction site and their families.
(Read: Imran, who lost 13 family members)
An unimaginable price has been paid for gross negligence. Seven storeys came up in just six weeks, with sub-standard material. An eighth was under construction when the building caved in on itself. Homes, offices and shops had been set up within the building without an occupancy certificate.
"Ninety per cent of buildings in Mumbra are illegal," Thane Municipal Commissioner RA Rajeev told NDTV.
A local resident named Mangal Patil had complained thrice since February about the building and even submitted photographs to the Thane Municipal Corporation, which is controlled by the Shiv Sena. He sent copies to the Chief Minister's office, but says no one responded.
The Shiv Sena has passed the blame onto the Nationalist Congress Party (NCP), saying its local MLA should have complained about the illegal building. NCP leaders counter that Thane has many illegal buildings and ask how the Sena-controlled civic body allowed these to come up.
In 2010, the government admitted that there were as many as five lakh illegal buildings in Thane. Three years later, just 11,000 have been demolished, a sign of the nexus between politicians, bureaucrats and builders.
The two builders responsible for the most recent disaster have gone underground. The police have filed a case against them of culpable homicide not amounting to murder.