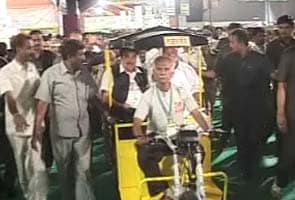 Nagpur:
Union Minister Sharad Pawar today shared a solar autorickshaw ride with former BJP president Nitin Gadkari at 'Agro Vision 2013', an agriculture exhibition organised in Nagpur.
Sharad Pawar, who arrived in Nagpur this evening from Pune by a special flight, spent about 40 minutes at the exhibition promoted by Mr Gadkari, who resigned from his post earlier this week refusing to seek a second term in office amid charges of irregularities in Purti Group.
Both the leaders visited the expo and interacted with the participants.
Later, Mr Pawar told reporters that the Agriculture Ministry is exploring the possibility of organising a national-level agriculture exhibition in Delhi around Diwali, which will help create awareness about several issues in agriculture.
"A meeting will be held in New Delhi in the next fortnight to finalise the plan," Mr Pawar said, adding that the country's first Union Agriculture Minister Panjabrao Deshmukh, who hailed from Akola in Vidarbha region, had organised a similar exhibition.
The NCP chief's visit came as a surprise, as it was not part of his two-day schedule in Nagpur and the region.