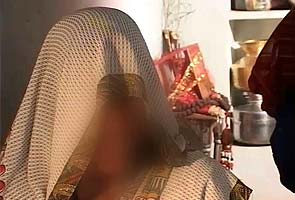 Hyderabad:
At 16, Sonal (NOT her real name) has few friends, does not attend school in Hyderabad and does not meet any relatives other than her parents and brother.
When she was eight, she was sexually assaulted by a relative. Her parents - financially weak and dependent on social support from relatives - ignored advice and warnings to accept a financial settlement from the alleged rapist. They were determined to get justice for their daughter.
It has been a stark and lonely fight. Taunts by other children forced Sonal to leave school. Her neighbours won't let their children interact with her because they say as a "loose character" she could be a "bad influence on their child''.
"My daughter's life and ours was ruined. We are fighting for justice. Why isn't anyone helping us? Neither the government nor anyone else?'' asks her mother in the two-room rented home where they live.
Sonal's father is visually impaired, a bhajan singer who earns his living by performing at religious gatherings. Because he needed his wife to assist him in his travel, Sonal and her younger brother were sent to live with their paternal aunt in a village in the Yavatmal district of Maharashtra.
A man related to her had easy and supervised access to the children, and he allegedly sexually assaulted Sonal, then warned her not to talk about it.
Sonal was confused and terrified. She complained to her aunt who allegedly burnt her with a hot iron ladle to ensure she would not repeat her account to anyone else.
Two weeks later, Sonal and her brother returned to their home in Hyderabad. Sonal's mother observed that the child was withdrawn and was so terrified of letting anyone approach her that she would not allow her mother to bathe her.
When Sonal was taken to a doctor, the mother was told her daughter had been sexually assaulted. She informed her husband and they decided they would file a police complaint.
After initially refuting Sonal's account, the aunt and the man who allegedly raped the child, offered a financial settlement. This would save "family honour", they said.
Sonal's parents decided to risk isolation - emotional, social and financial - to file a police case against the man who had abused their daughter. The case was filed in Hyderabad and then transferred to Maharashtra where the alleged crime had taken place.
For five years, the family did the rounds of police stations and courts to ensure their daughter's case would not be relegated to a file buried in an office somewhere.
In April 2009, a court in Maharashtra ruled in Sonal's favour, but an appeal by the man convicted of assaulting her reversed that decision. In its order, the Bombay High Court observed that it was possible that a father had accused a relative of rape to extract a petty amount in the range of Rs 1200.
The Maharashtra government did not challenge the acquittal in the Supreme Court.
The family was running out of money and strength. A software engineer named Saurabh, who saw a report on NDTV, decided to help Sonal and her family.
He moved from Hyderabad to Delhi and liaised with the Human Rights Law Network - an association of lawyers who donate their services - to file a petition in the Supreme Court on behalf of Sonal's parents.
"How can anyone say that for 1200 rupees, a father would put his daughter's chastity at stake? Whereas he has spent several times that amount in trying to pursue the case," he said.
In India, the conviction rate among rape cases hovers at about 26%. Experts point out that most often, the acquittals are inevitable because of poor investigation by the police. Saurabh, who is 32, says Sonal's story is no different. "It is very obvious that the evidence of the doctor, who examined the child and gave a report, must be taken on record. Also the testimony of the person to who child first reported the crime, in this case the aunt. Both of that were not done. When in the High Court the questions were asked about this evidence, the prosecution had no answer," he said.

Here is how you can help:
This is the bank account details:
Madhuri Deepak Bhatt (mother of child)
Central Bank of India
a/c 3057768022
Macha Bolarum Branch, Secunderabad

Note:
This information has been provided / published on a good faith basis, without any commercial motive. NDTV does not vouch for the authenticity of the claims made by the intending done, nor can we guarantee that the donations made by a donor will be used for the purpose as stated by the intending donee. You are requested to independently verify the contact information and other details before making a donation. NDTV and/or its employees will not be responsible for the same.