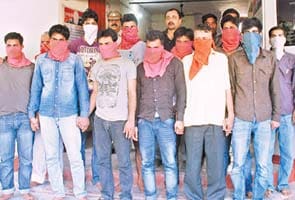 Noida:
Noida police claims to have busted the biggest kidnapping racket operating in northern India with the arrest of 12 people and recovering Rs 4.25 crore ransom. Twenty days after a Noida-based businessman Kapil Gupta was kidnapped, on September 21, Noida police and Uttar Pradesh special operations group (SOG) have arrested 12 high tech people who were behind various high profile kidnappings.
It was not an easy job for the cops to nab the gangsters as they were using latest technology to beat the police. Cops claim that the gang that kidnapped Gupta is the same one that had earlier taken hostage his associate Saurabh Jain from Sector-41 on February 22.
SSP Jyoti Narayan said Kapil Gupta had been freed by his kidnappers after they received a ransom of Rs 5 crore on September 25. Police continued their investigation even after the family did not get a case registered. Gupta was kidnapped by the same gang that had taken Jain hostage. The gang is run by Kapil Jaat and Anshul Bawra and they used to run operations from Delhi, Noida and Meerut. So far, 12 members of the gang have been identified. The gang members are highly tech-savvy Narayan said.
"We were not able to nab the gang members quickly as they used to keep in touch with Blackberry phones, which are hard to trace. Some of them are B-tech graduates. Also, we suspect that we have a mole in the police force. We have put 18 people under the scanner, including cops, property dealers, criminals and businessmen to find out who were giving asylum to the gang members and providing them information. The gang was primarily involved in vehicle theft and loot. We expect to recover around Rs 4.25 crore from them soon,'' said Narayan. "The gang may have got information about Gupta from the girlfriend of one of the accused, Monu, who is still on the run. After he is caught, the girl will be identified and questioned," added Narayan.
CCTV camera helps
The police got their main lead in the case after they saw Gupta's Mercedes in CCTV footages at Sector-15A at 7.55pm. The abductors were taking him towards the Noida-Greater Noida expressway. Cops scanned 36 CDs of the Sector-15A CCTV footages for this information. Thirteen teams of police were investigating the case, including the elite team SOG and Special Task Force.
Gupta, who runs an electronics company in Sector-6, went missing after dropping an employee at Ashram around 7.45pm on September 21. He had called his wife Sonia and told her he would be home in 10 minutes. But when there was no sign of him after an hour, Sonia called back and found his phone out of coverage area. Sonia informed the police around 11pm that her husband is missing. She even scoured areas frequented by Kapil. As he had recently undergone surgery, she even visited hospitals in the vicinity, but to no avail. Amid mounting tension, Sonia received a ransom call for Rs 5 crore almost 24 hours after the kidnapping, on September 22.
A wife's ordeal
Businessman Kapil Gupta, who runs an electronic company in Sector-6, Noida, went missing after dropping an employee at Ashram around 7.45pm on September 21. Recalling the ordeal, Sonia said, "I didn't know how to arrange for the money at such short notice. We had no resources to tap into. We borrowed money from relatives and took a loan but only managed to collect Rs 1 crore. After much negotiation, the deal was clinched at Rs 1 crore. I, along with one of my relatives, went to the location specified - a vacant land near Meerut bypass - in the wee hours on Saturday. We followed instructions of the kidnappers and left the place after dropping the bag with the ransom money." She waited for her husband to return with much trepidation. He was released 16 hours after the ransom was paid and returned home in an autorickshaw.
Sonia told that a car rammed into her husband's Mercedes from the right side on DND flyover while he was on his way home. "The moment Kapil stepped out of his car, unidentified assailants held him at gun point. He was then bundled into the car and taken to Greater Noida expressway. Another car followed the car in which Kapil was held hostage. They forced Kapil to consume a drink laced with sedatives," said Sonia. The police said on Sunday that the businessman's Mercedes car has been recovered.
In December last year, Saurabh Jain, promoter of two companies, was also kidnapped in Noida. He too worked for Kapil Gupta. Abductors had also demanded Rs 1 crore for his release. The police are now trying to probe whether the same gang was involved.
Incidentally, the victim had applied for a pistol licence five months ago but despite repeated attempts and approaching senior police and administrative officers, he could not obtain the licence. "The application was lying in the district magistrate's office for three months," Kapil said.
What an answer!
On asking why, in kidnapping cases in Noida, families keep police out of the picture, UP Police ADG (NCR) K L Meena said the families could better answer the question.
Previous case of abduction
Son of Adobe India CEO Naresh Gupta, Anant, was kidnapped near his residence in Sector-15A, Noida, on November 13, 2006. Two motorcycle-borne men abducted him when he was on his way to school with a maid. Three days later, the kidnappers were caught in Mathura and Rs 50 lakh, paid as ransom, was recovered by the UP Police.