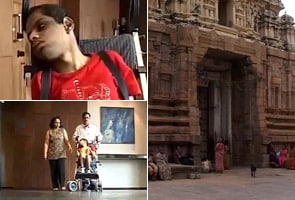 New Delhi:
A trip to a temple in Karnataka is going to remain etched in the minds of this Delhi-based family but for all the wrong reasons.
The trip to the Sriranganathaswamy Temple in Srirangapatna near Mysore was a last minute decision for Anikesh 's family. The decision however ended up causing them pain when their 23-year-old son Anikesh was not allowed to enter the temple on his wheelchair.
Col V K Kuber, Anikesh's father said," I refused and said no, I would like to go with the wheelchair. To which he pushed the wheelchair aside and an old man in a khaki dress joined him in pushing it saying we don't allow wheelchairs.
"My son was sitting in the wheelchair and he was pushed around which is what actually hurt us. The priest left his job inside the sanctum sanctorum and he came and he joined them and said, take them out, take them out."
Shanthi Kuber, Anikesh's mother, has decided not to enter the temple anymore. What pinched her the most was that her son is suffering from cerebral palsy and because he can't speak, the temple authorities just pushed him around. The parents felt that their child's dignity and self-respect was hurt.
However, the temple authorities defended themselves saying there was a communication gap because of language - and that no wheelchair is allowed inside the temple premises because of access problems.
"It was a communication gap and the family was rude. No wheelchair is allowed inside because there is no access," said the temple priest Srinivas.
However, Anikesh's parents have decided to take the matter forward and make a formal complaint to government authorities.