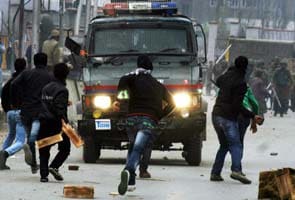 Srinagar:
Three policemen and a woman were injured in sporadic clashes that broke out in parts of the city after security personnel tried to stop Shia mourners from taking out Muharram processions.
Official sources said the clash took place when over 150 Shia mourners tried to take out a religious procession in violation of prohibitory orders in force in the city.
Police said, a group of men pelted stones on police deployments near Fire Services headquarters in Batmaloo area of central Srinagar. The woman, Haneefa of Soibugh village of Budgam, was waiting for a bus in the area when she was hit by one of the stones.
The police used batons to disperse the mourners, who turned violent, the sources said adding that the clashes continued for several hours. Over 30 Shia protesters were also taken into preventive custody, the sources said. Authorities had imposed strict restrictions in parts of the city early this morning to foil any attempt by the community to take out procession.
Sources said the heavy deployment of police and CRPF was made as chairman of hardline Hurriyat Syed Ali Shah Geelani had also called for protests after Friday prayers against the situation in Gaza and BJP's increased rhetoric demanding hanging of 2001 Parliament attack death row convict Afzal Guru.
Strict restrictions under section 144 were imposed in areas falling under Kothibagh, Maisuma, Kralkhud and Shaheedgunj police stations.
Before the onset of militancy, the Shia community of the city used to take out processions from Abi Guzar in Kothibagh and Guru Bazaar in Kralkhud police station areas which culminated at Dalgate in Ram Munshi Bagh area to mark the eighth day of the 10-day Muharram.
However, these processions were banned in 1990 as authorities feared that militants can attack the processions. "The situation remained largely peaceful barring sporadic incidents of stone pelting at Saraf Kadal and Batamaloo in Srinagar and Cement Bridge area in Baramulla district town of north Kashmir," a police spokesman said.
He said police exercised maximum restraint and dispersed the stone peltors. Shops, offices and business establishments remained shut while traffic was suspended in Lal Chowk and adjacent areas of Maisuma and Residency Road. The attendance in government offices was also thin and students at many places faced hardships due to the curbs imposed by authorities.
Tourists were stranded inside their hotels as police did not allow their movement.
Chairman of moderate Hurriyat Mirwaiz Umar Farooq was also placed under house arrest and was not allowed to visit Jamia Masjid where he usually delivers the weekly sermon before the Friday prayers.