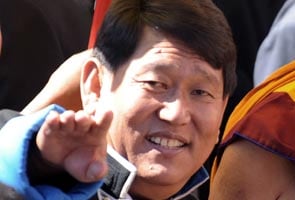 Arunachal Pradesh:
The last rites of former Arunachal Pradesh Chief Minister Dorjee Khandu, who died in a chopper crash, will be performed on May 10 instead of May 11 as announced earlier. Buddhist monks suggested advancement of the date by a day after going through the scriptures and performance of rituals at Tawang, Jambey Tsering, PRO to Chief Minister Jarbom Gamlin, told PTI.
He said Khandu would be cremated in accordance with the Monpa tradition of Buddhism in his native village at Gyangkhar near Tawang and till then the monks will perform prayers for eternal peace of the departed soul. Khandu along with four others died in a helicopter crash on April 30 and their bodies were recovered at Keyla, near Luguthang, only on May 4.
The mortal remains of Khandu were brought to Itanagar en route Tawang the next day and kept in his official bungalow before being flown back to Tawang. The newly-appointed chief minister, his cabinet colleagues and all legislators would attend Khandu's funeral.