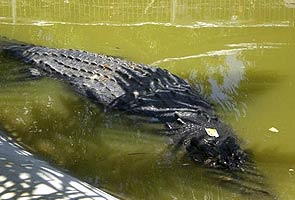 Coimbatore:
Weak and unable to eat properly for three years after losing its lower jaw in a fight with other crocodiles, a female 'mugger' at the corporation zoo now has a ray of hope with efforts being made to reconstruct the lower portion of its mouth.
The crocodile was brought to Coimbatore from a dam in Tirupur district about 25 years ago. About three years back, it got into a fight with other crocodiles and its lower jaw was ripped off.
Zoo officials said they consulted experts, including from Madras Crocodile Bank and in Hong Kong and zeroed in a dentist and an oral surgeon in the city to perform the rare reconstructive surgery.
Accordingly, plates made of Titanium, a non-toxic and bio-compatible material would be fixed to the lower jaw with screws, and tissues could be grafted over them so that the reptile would not have any problems in chewing food.
The time for the surgery would be decided later after consulting the two doctors, they said, adding it would take at least three to four months for the wounds to heal and the stitches to firm up. Till then the crocodile would be kept in isolation, they said.
Zoo director Dr K Ashokan was not immediately available to give more details.