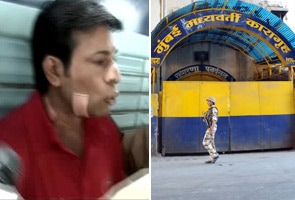 Mumbai:
Who says life in prison has to be hard? In fact, it is the underworld's guesthouse where for a price, inmates like gangster Abu Salem can get all the basic luxuries of life.
This is what state home minister, Ramesh Bagwe, seemed to have discovered after his visit to Arthur Road jail on Monday. Bagwe's visit comes close on the heels of Salem being attacked by Mustafa Dossa on Saturday. (
Read: Did Abu Salem plan spoon attack on himself?
)
Bagwe, after his visit, said that the jail was like a hotel where all the facilities are available to inmates, especially if they were from the underworld. To his shock, Bagwe found that Salem's cell had marble flooring and bathroom facilities. The cell had a bed, utensils, tiffins and posters of models. Dossa's cell, Bagwe noticed, had tiffin boxes as well as enough supplies of fruits to last an inmate 10-12 days.
Two former prisoners also tell the same story.
Salim Sheikh, a key member of the Chhota Shakeel gang, said that the jail is a 'guest house' if a prisoner is affiliated to a gang - but not for ordinary prisoners. Salim, alias Baba was released on bail in May. He was in Arthur Road jail for about two years.
He chuckled, "We were never short of anything in the guest house. We had the best of food. My weight increased by 5 kg during my detention. Sometimes there were skirmishes with members of the rival gangs, such as Yusuf Bachkana. But we never reported that to the jailor or warden."
"Mobiles are rare because the maintenance cost is very high (Rs 10,000 per month). Only senior members of the gang can afford them," he added.
Another inmate, Nitin Solkar, was released on bail three months ago. He is an informer, but was arrested for a robbery. "Life in jail is no different for a few inmates, especially the underworld. People like Dossa and Salem have access to whatever they wish," he said.
He added, "Mobile phone or messages are transported in or out through a person who has a hearing in court. The meeting happens in the court and the exchange is made."
Many cops are aware of what goes on inside the jail, and sometimes, even help them carry stuff inside, despite the metal detectors. Anyone staying here for 14 days gets used to the 'system'. Chicken biryani is the most ordered dish inside the jail. Sometimes, underworld members even eat together.
Fresh undertrials are made to do all kinds of odd jobs like cleaning and washing clothes by senior gang members. In return, they get extra food, and most importantly - protection from other inmates.
Sodomy is common. Sometimes new recruits are exchanged for sex or 'bhade ke gaadi' as it is known in underworld lingo. Teri gaadi mere paas, actually means handing over a young prisoner to an associate for sex.
For their safety, a number of undertrials keep makeshift weapons made out of toothbrushes and blades - the plastic brush is melted and a blade is inserted in the centre, which solidifies on cooling.
A furious Bagwe said, "I found that Salem was living in a hotel-type environment with new marble floorings, posters on the walls, among other luxuries. Dossa too, was enjoying the luxury and even had fruits in his barracks. This is too much. I am going to have surprise checks inside the jail and will see that necessary action is taken."
On the menu:
Biryani (twice a week with watery korma) at Rs 35, 10 cigarettes for Rs 200, glucose biscuits at Rs 12 per pack, medicated powder priced at Rs 100, a mug for Rs 70 and luxury soaps for Rs 30 each.