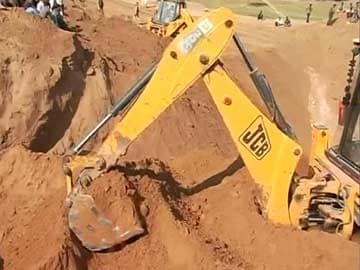 Churu, Rajasthan:
The Army team attempting to rescue a boy who fell into a 250-feet-deep borewell in Rajasthan's Churu district is facing difficulty in getting him out and he may be dead, police said today.
"The team lowered a camera into the borewell but failed to detect any sign of the boy. The camera went down as much as 270-feet-deep and reflected images under water, which indicates that the body has gone into water," SHO Sandwa Rajesh Kumar said.
It has now become a herculean task to locate and retrieve the body of the two-and-a-half-year-old boy, Radheyshyam. The Indian Army team, which was roped in for the rescue, is now making efforts to locate the boy through a water-competent camera which was brought by civil administration from Jaipur, he said.
The boy fell into the borewell on Monday evening while he was trying to cross over the open shaft which was covered with a sack.
Initially, police had begun digging work parallel to the borewell but it was later stopped.
A policeman involved in the rescue process said if the body was located underwater, a parallel borewell will have to be made to retrieve it because it was not possible to bring the body out from the present borewell as it has a diameter of just 6 to 8 inches.
"It is a very critical operation. We are committed and also advising the civil administration on technical aspects of the present situation," Defence spokesperson Col S D Goswami said.