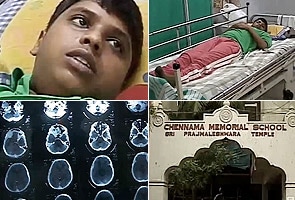 Bangalore:
15-yr-old Abdul Gaffar Khan, is receiving medical treatment after what he and his family claim was very harsh punishment at his school.
Abdul was late for school and he says he was made to do no less than 200 sit-ups and was also later beaten up.
"When I went five minutes late to school the teacher gave me punishment 200 sit ups. Then Secretary Raghavendra called me and said why are you speaking vulgar words? I said I was not speaking Sir. Then he said to bend and he hit me with ruler on the buttock," said Abdul.
Supporting his friend, Abdul's classmate too said that he was beaten up.
"Abdul Gaffar Khan was beaten by Raghavendra Sir with a cane," said Usman.
Incidentally, Abdul's mother is a teacher at the same school.
"Government is issuing day by day one rule by rule we should not beat the children we should not harass the children. Day by day they are not listening," said Dilshad Begum, Abdul's mother.
Despite what the family and even the boy's classmate says, the school maintains that while Abdul was punished it was certainly not so severely.
"Impossible, I told you no, it is a maximum of 25 and that too we don't insist that you do it this way only or that way only.Four-five students in the canteen were using foul language so they brought him here, I asked the leader just take down their names, we'll look into the matter later, and that was it," said Raghavendra Rao, Secretary, Chennama Memorial School.
Though, there are two versions of what happened , one thing is certainly true that corporal punishment still does exist in schools across India despite being specifically forbidden.
Get Breaking news, live coverage, and Latest News from India and around the world on NDTV.com. Catch all the Live TV action on NDTV 24x7 and NDTV India. Like us on Facebook or follow us on Twitter and Instagram for latest news and live news updates.